Love, Rosie
What's it about? Rosie and Alex have been best friends ever since they were children, but misunderstanding and circumstances beyond their control divide them again and again.

Why you'll happy sob: Lily Collins and Sam Claflin are so likeable, their chemistry so undeniable and charming that you'll want nothing more than the pair to just end up together for the majority of the film's running time.
The Pursuit of Happyness
What's it about? Chris Gardner struggles with homelessness whilst single-handedly raising his son and completing an unpaid internship to become a stockbroker.

Why you'll happy sob: If you do not cry when Chris is finally offered a position at the firm after all he has struggled and walks down the street, tears in his eyes and clapping to himself, you are not human.
Slumdog Millionaire
What's it about? Jamal has been in love with Latika ever since he first met her, and ends up going on Who Wants To Be A Millionaire in the hopes of reaching out to her after she disappears from his life, shocking everyone when he rises through the rounds and is well on his way to winning the top prize.

Why you'll happy sob: It's a film about love, family and redemption, and since you've been on Jamal's journey since he was a child, there's no way you won't be ugly sobbing by the end.
Hook
What's it about? Peter Pan has left Neverland, grown up and forgotten who he is. But when his children are kidnapped, he is forced to return to Neverland and rediscover his roots before it's too late.

Why you'll happy cry: Peter finally learns how to be a great father, the mother's sobbing as she reunites with Jack and Molly, old Wendy's happiness as she reunites to the Peter she remembers, URGH. SO MANY CRY-WORTHY MOMENTS.
Cool Runnings
What's it about? JAMAICA WE HAVE A BOBSLED TEAM. 'Nuff said.

Why you'll happy cry: Jamaica loses the race, but carry their bobsled across the finishing line with the most incredible slow clap you've ever seen as their families cheer for them. SO GOOD.
Billy Elliot
What's it about? During the Miner's Strike, Billy Elliot finds out he loves to dance, despite his father and brother's exasperation and his own inner turmoil between family and doing what he loves the most.

Why you'll happy sob? Whether it's Billy finding out he got into the London School of Ballet, his brother sobbing "I'll miss you" as the bus pulls away, or his father's awestruck expression when he watches him perform…UGH.
Forrest Gump
What's it about? Forrest is a slow yet kind man who unwittingly takes part of several historical events, all the while pining for his best friend from childhood, the troubled Jenny.

Why you'll happy sob: Forrest finds Jenny over and over again, and we challenge you not to cry and clap when they reunite in the middle of a lake to thousands and thousands of cheering spectators.
Silver Linings Playbook
What's it about? A man recovering from a mental breakdown attempts to reconnect with his wife, enlisting the help of the young and equally troubled widow, Tiffany. She only agrees to help him if he partakes in a dancing contest with her, and the pair slowly fall in love.

Why you'll happy sob: The letter Pat reads Tiffany at the end is MORE than enough to get the happy tears a-flowin'.
Toy Story 3
What's it about? Woody, Buzz and friends owner Andy is all grown up and going to University. After a misunderstanding, the toys end up in Daycare, which not not as bright and sunny as it may seem…

Why you'll happy sob: Andy eventually gives all of his toys to the adorable Bonnie, and plays with them one last time before driving away, leaving them all watching him go. It's such a bittersweet moment, we needed to remind ourselves that toys don't actually have feelings.
Chocolat
What's it about? Vianne and her daughter move to a closed off town where anything different is suspicious. But when gypsies arrive in town and Vianne is the only one who embraces them, things become more dangerous than ever.

Why you'll happy cry: The townsfolk embrace the new, Vianne and Roux fall in love, Vianne decides to stay in one place. It's all just so charming and lovely.
Bend it like Beckham
What's it about? Jess loves to play football, but her family have other plans for her. Can she do what she loves the most with her family's approval?

Why you'll happy cry: Jess's speech to her parents about what she wants, running across the pitch to tell her coach/love of her life that she was allowed to go to America on a football scholarship, seeing Becks at the airport. This movie for ALL the awards.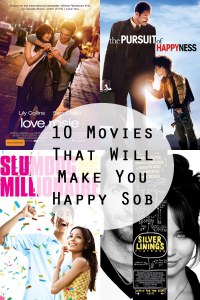 Which is your favourite? Tweet us @sofeminineUK!
You might like...
15 Movies From The Last 5 Years That Every Woman Should Watch

8 Reasons You Need To Watch Netflix's Daredevil

15 Amazing Shows To Watch This Summer