Who will win the award for Most Improved?
1. George Clooney
He really grew into the bags under his eyes!
2. Nicole Kidman
Nicole has blossomed from her permed chipmunk days!
3. Daniel Craig
Some could argue Daniel grew into his stunning good looks at some point in his thirties...
4. Pink
Oh Pink. Love the mustard turtle neck.
5. Tom Hanks
Tom Hanks or Oscar Wilde? The chin length perm was a bad idea Tom. Don't deny it.
6. Penelope Cruz
As much as we are loving the pigtails, it's fair to say a lot's changed for Penelope since school!
7. Justin Timberlake
Same smile, better teeth.
8. Jennifer Garner
Oh Jen, fringe! What were you thinking?!
9. Bradley Cooper
Any of Bradley's old classmates who are cursing themselves for not giving Bradley a chance at High School, we can't say we blame you...
10. Angelina Jolie
Angelina looked like she needed a good twelve hours of sleep and a shower back in the day...
11. Jake Gyllenhaal
We'll pretend we didn't see this Jake.
12. Katy Perry
Katy can rock blue hair, purple hair, rainbow hair, but the blunt bob is something even she can't pull off!
13. Brad Pitt
We refuse to believe this is actually Brad. But it is. But it can't be.
14. Kate Middleton
From average English school kid to Princess! Love it!
15. Eminem
Take a good long look everyone. This might be the first and only time we see Eminem smile.
16. Adele
So Adele blossomed...
17. Bruno Mars
Oh Bruno! Too much cheese!
18. Sarah Jessica Parker
Sarah Jessica Parker was SO cute and toothy! Especially toothy.
19. Sandra Bullock
We all had a wonky fringe at some point in our lives Sandra, it's okay.
20. Megan Fox
Nice teeth Meg.
21. Ke$ha
We have no words.
22. Kate Hudson
At least Kate's always been happy!
23. Jennifer Lopez
Jennifer Lopez or a cast member from The Sound of Music?
24. Shakira
Yeah, Shakira's actually brunette. We know.
25. Michelle Obama
Why so serious Michelle?!
26. Beyonce Knowles
Who are we kidding, Beyonce was an awesome baby. Love you B.
So who do you think has had the most radical transformation? Tweet us @sofeminineUK!
All images via Pinterest
Check out how these child stars have changed!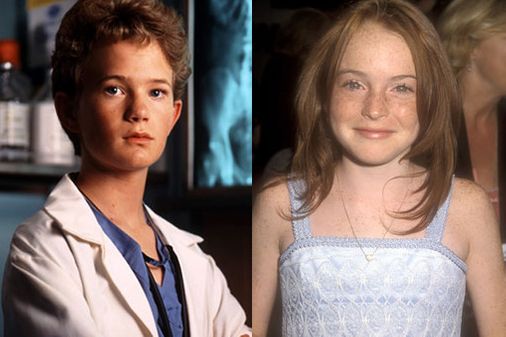 © GETTY
Child stars grown up: Then and now
Enjoyed this article? Check these out!
What Do The Boys Of Harry Potter Look Like Now?

Where Are These Child Actors Now? What Happened To The Children!!!

Celebrity babies: Cute kids 2013