He'll spend more time with you
Who really wants a boyfriend who splits his time between work and the gym and can only squeeze in some time with you whilst he's preparing his protein shakes for the week? Sure the result is fantastic, but if you want a man that actually has time to spend hanging around with you, he'll have the beloved dad bod.
It says a lot about personality
Your man isn't just obsessed with the gym. He isn't posting Instagram gym selfies and quotes about working hard and playing hard. He has other interests aside from his own appearance. Because really, a six pack on the outside means vanity on the inside, right?!
They make men more approachable
Who has ever swiped left on Tinder because a guy and his perfect abs looked TOO much out of your league? Don't be ashamed, we've all done it. The Dad bod makes us feel less intimidated, because as you were munching on Doritos whilst playing on the app, he was probably snacking on same thing, not swiping whilst doing one-handed chin-ups.
You'd look very adorable together
We're a little ashamed to say it, but the shallow part of us really likes the idea of a bulkier beau making us look like a tiny delicate ballerina princess. But that's just us.
You don't want to snuggle up next to a muscular rock
Rocks are cuddly. They are rock solid and cold. Do you think Seth Rogan is cold? No. Seth Rogan is a freaking teddy bear. Would you rather sleep next to Seth Rogan or a rock? If you answered Seth, you are a fan of the dad bod.
You'd feel more at ease
You wouldn't feel self-conscious about your body, or constantly be comparing yourself. You'd both just happily share Chinese takeaways, watch Netflix and OCCASIONALLY go for runs together. But only when you feel like it.
It is the typical physique of all the actors you have guilty crushes on
Jason Segel, Seth Rogan, Vince Vaughn, Jonah Hill. All those actors you have secretly crushes on that you can't quite explain rock the dad bod!
Do you think the dad bod is a good luck? Tweet us @sofeminineUK!
Now be ready to swoon over our favourite celebrity dad bods...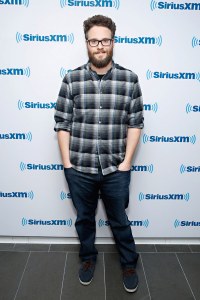 © Getty
You might like...
10 Of The Most Fantastically Ridiculous Celebrity Adverts

Britney Spears, Iggy Azalea Release 'Pretty Girls' & It's Interesting to Say the Least