Alex Reid writes warning letter to Katie Price's new husband Kieran Hayler
Alex Reid was catapulted into the public eye following his highly publicised marriage to Katie Price in February 2010.

The glamour model started dating the former Hollyoaks actor only two months after splitting from her first husband Peter Andre, following four years of marriage.

They split less than a year later and Katie quickly took up with Argentinian model Leandro Penna, much to Alex's distress.

This month she wed part-time stripper Kieran Hayler after two months of dating and Alex has penned Katie Price's third husband a frank letter to warn him about what he's let himself in for.

In the letter - which was published in Now Magazine - Alex claims that being with Katie is "like being with Jekyll and Hyde" and that she will use "sex as a weapon" to get what she wants.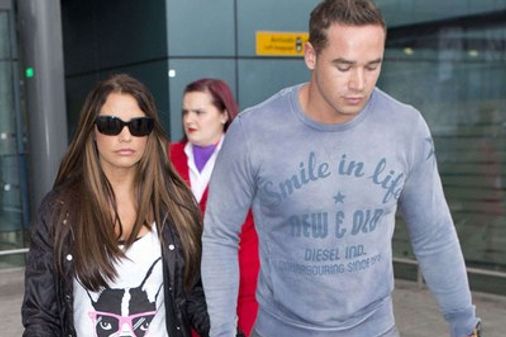 Alex Reid writes warning letter to Katie Price's new husband Kieran Hayler
The 37-year-old cagefighter dramatically opens his letter by saying: "Dear Kieran, You're now officially on the Katie Price roller coaster ride.
"I've been there and I just about survived!"
He warns the builder that he shouldn't have any aspirations of fame himself, as the former Page 3 won't allow him to do anything that could potentially take the spotlight away from her.
The father-of-one claims: "I got a request to do a mag interview on my own. I wanted to do it, but Katie said no.
"We had a bit of a fight and then she just looked at me and said: 'It isn't all about you. You'll never be as famous as me.'"
Alex - who has a daughter Dolly with glamour model Chantelle Houghton - says that Katie was incredibly controlling and she even dictated what he wore.
He explains: "She didn't like my clothes. She styled me to look like a boy band member in skintight jeans tucked into the boots and very tailored stuff."
In a move that is sure to infuriate his ex-wife, Alex admits that life with Katie is not easy because she "can switch on and off" and uses sex as weapon to get what she wants.
He warns: "The sex was amazing at first but it fizzled out."
Although he loved being in the limelight with Katie, Alex claims that it was really their private time together that was most precious to him.
The kickboxer confesses: "Although we'd go absolutely mad at celebrity parties and drink like crazy, it was always the next morning I treasured.
"I'm sure you know what happens. Katie would be really hungover. She'd be pale and blotchy but she was never more beautiful to me."
Alex concludes his letter by gravely warning the new Mr Katie Price to not "trust anyone at all", adding: "I genuinely wish you and Katie happiness. Good luck, Alex Reid."
Katie is going to be spitting nails when she read's her ex's letter!