Kim Kardashian has joined the ranks of Marilyn Monroe and Elizabeth Taylor! The celeb's beauty has now been immortalised in a $30,000 Warhol-inspired screen print.

Monica Warhol, a distant cousin of famous artist Andy Warhol, according to her website, created the Technicolor screen print of Kim Kardashian that is featured in the latest issue of In Touch Weekly.

Monica told the magazine, "I am picking up where Andy left off, and Kim is the perfect addition to the Warhol legacy…There is no way Andy Warhol would not have painted her. Kim is manufactured gorgeous and is beyond fabulous. How could Andy not have been inspired to paint her like he did Marilyn Monroe and Elizabeth Taylor?"

Initial reports suggested that Kim's fiancé Kanye West commissioned the piece of artwork as a present, but Kim's rep told E! News, "There is no truth to this."

The print continues in Andy Warhol's signature style, but using bright colours like pink, orange and green, and Monica says it is part of an "ongoing series of contemporary Superstars." Monica has already created work for rapper Flo Rida, featured in his music video for song How I Feel, and the fabulous Mick Jagger.

Though she keeps with Warhol's signature style, Monica uses a few new techniques. "My style incorporates layers upon layers both hand drawn and in Photoshop, printed out and burned to individual silk screens, and is then hand-painted in the beginning, middle and the end."

Kim was not actually present for the creation of the piece, but Monica tweeted about the art process earlier this week, "Kim is all over me, covered in paint, if only I cleaned up as well as this beauty." Don't we all wish that?

What do you think of Kim being "Warholified"? Tweet us @sofeminineUK!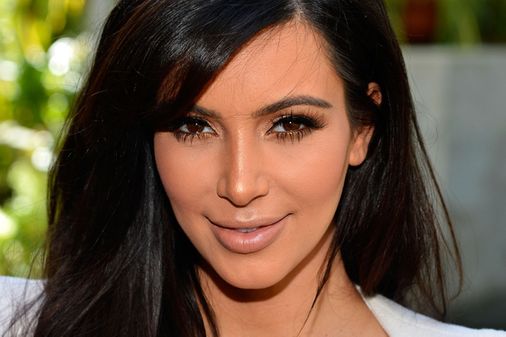 © Getty
Kim Kardashian