Emma Watson shakes off good girl image with sexy new role in The Bling Ring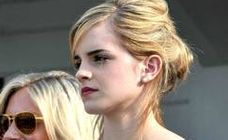 Emma Watson will forever be linked to her most famous role as fresh-faced Hermione Granger in the Harry Potter series.

But following the end of the film franchise, the 22-year-old British actress has been eager to shake things up and take on edgier parts.

She's about to hit the big screen in The Bling Ring, which will see her stripping down to just her bra to portray the rebellious ringleader of a gang of privileged teenagers that stole from Hollywood's elite.

It's directed by Oscar-winning screenplay writer Sofia Coppola and based on a true story of The Hollywood Hills Burglar Bunch.

Emma Watson shakes off good girl image with sexy new role in The Bling Ring
The original group were a bunch of teenagers, who were arrested in 2009 for a string of break-ins at the homes of stars including Lindsay Lohan, Orlando Bloom and Paris Hilton.
They made away with luxury goods, jewellery and cash worth more than $3 million - most of which belonged to Paris, who left the doors to her Hollywood mansion unlocked.
They allegedly targeted Orlando's home as one of the girls wanted to steal his wife Miranda Kerr's Victoria's Secret lingerie.
Emma's character Nicki is loosely based on real-life Bling Ring member Alexis Neiers, who was not the ringleader, but she became the best known of those convicted.
The gorgeous daughter of a Playboy model, Alexis only served 30 days after making a felony plea deal.
Although other members of the group had much longer sentences, she became the most famous, converting her notoriety into fame by starring in reality show Pretty Wild.
Alexis was renowned for her partying ways and Emma's character is no different, with the first trailer for the film showing Nicki seductively dancing wearing skimpy clothing in one of Hollywood's top clubs.
Watch the trailer for The Bling Ring...