Ex Downton Abbey star Jessica Brown Findlay regrets topless flash in film debut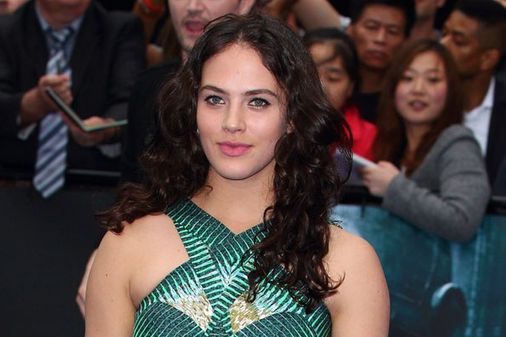 Ex Downton Abbey star Jessica Brown Findlay regrets topless flash in film debut
The former Downton Abbey actress played a teenager who has an affair with an older man in 2011 Brit flick Albatross.
In one scene, Jessica's character Emelia is asked to prove her age when buying cigarettes.
She therefore lifts up her top to expose her bare chest and asks: "Is that good enough?"
Jessica admitted to the Radio Times about the risqué clip: "To be honest, Albatross was naivety and not knowing that I could say no.
"I had no idea what was going to happen and thought I was going to be shot from behind."
Jessica - who shot to fame as Lady Sybil in Downton - also strips off in the upcoming Channel 4 adaption of Kate Mosse's best-selling novel Labyrinth.
She has admitted it wasn't something she enjoyed doing.
Jessica, 23, added: "In Labyrinth it is a very fleeting moment that we shot in one take, but I did find it very odd being naked in front of lots of people and I think it's awful that women get so criticised about their bodies.
"I think if you're going to do a nude scene, be honest and natural. Otherwise I'd be starving myself for ever, which I just couldn't do!
"The idea that actresses would work out at the gym for a thousand hours beforehand... I was drinking pints and eating burgers.
"But actually, it's not something I would do again."
Jessica's exit from hit ITV period drama Downton Abbey was a shock to everyone in October last year.
Her character died during childbirth in a tragic scene that had fans in uproar.
Jessica's decision to leave the show at the height of its success seemed an odd one to make, but she's revealed that she was determined not to fall into her "comfort zone".
She continued: "My contract was ending and I was unsure about signing away another year. Leaving terrified me, and that's what made me want to do it.
"Being afraid and going into the unknown excites me, and what scared me more was to keep going and then one day discover it was all I could do and wish I had pushed myself more. I'd prefer to fail and fall flat on my face."
She added: "I did Labyrinth in the break between filming the second and third series of Downton and it was such fun to discover a new character.
"Acting in Downton was quite restrictive - you can find freedom within it but it's certainly not running around, covered in mud, wielding a sword."
Watch Jessica Brown Findlay in the trailer for 2011's Albatross: