One Direction's Harry Styles has no plans to break any more hearts any time soon, but one that got a knock this year was Taylor Swift.

Hazza must have known the girl who wrote songs about all her exes would lay down a track in his honour.

The blonde popstar has admitted her song I Knew You Were Trouble was about 19-year-old Harry.

She spoke once about performing it at the BRIT awards, where the 1D star was watching from the audience.

Taylor told The Sunday Times Magazine: "Well, it's not hard to access that emotion when the person the song is directed at is standing by the side of the stage watching."

The 23-year-old added: "You're balancing the analytical side of your brain, which is telling you where to go and how to go there, with the other side of your brain, which is saying, 'Feel everything you're singing, and show it on your face. Feel everything exactly as you felt it when you wrote the song.'"

Turns out, as a fellow musician, Harry holds no grudges and has given Taylor the green light to write more about him, if she feels inspired.

He understands it's the nature of songwriting that the subject of relationships should end up in lyrics.

He explained to Us Weekly: "It would be hypocritical for me to say she couldn't do it because everybody writes songs based on personal experience."

With a social circle full to the brim with famous faces, would ending up in another song put him off?

He admitted: "I can't say I'd have dated someone less famous to avoid it."

© Getty
Harry Styles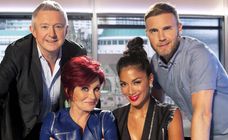 That's good news for any celebs with a crush on Hazza...sad for the rest of us!

He continued: "I think it's people, you like people for who they are, so I couldn't say I want to date someone less famous because of the hassle. You like who you like."

He went on to joke that he's just pleased the song was good.

He said: "At least she's a great songwriter!"
We'd love Taylor to write another and dish all the dirt on her two-month romance with Harry.​

If you were hoping to hear any songs about her on 1D's new album, don't hold your breath.

Hazza's previously been quoted as saying: "I haven't met a girl yet who I'd want to even think of getting serious with.

"I think I've been unlucky in love so far. But then, I haven't really met anyone who's made the earth move for me...

"I'm longing to meet someone who really inspires me and makes me really want to spend time with them."

He was thought to say this in the band's film This Is Us, but that scene must not have made the cut…

Will we ever know what went down between those two? Probably not.

© Getty
Harry Styles and Simon Cowell at the This Is Us premiere