Kristen Stewart is reportedly struggling to cope with life without her long-term boyfriend Robert Pattinson.

The couple split back in May when he apparently could no longer deal with the frequent reminders of her infidelity the previous year.

Kristen has been keeping herself occupied by going on a road-trip with pals, getting herself her first tattoo and partying with fellow bar patrons in Nashville.

She has also been photographed working the fashion scene at the recent Paris Couture week.

However a source for Star Magazine said: "Kristen's been trying to have a good time, but it's difficult while Rob's on her mind.

"She can't be bothered to eat and the weight is dropping off her.

"She's not in the best place right now and saying she can't cope without Rob."
To make things more awkward yesterday the brunette actress came back to her dusty truck to find "I heart Rob" written into the dirt on her bonnet.

Attempting to ignore the note she left it on her car for the world to see.

The insider added: "She put on a brave face and got her first tattoo while in Nashville to try to get into the spirit of the trip, but nothing seemed to cheer her up."

Although Rob has been linked to both Katy Perry and Riley Keough if reports are to be believed, neither of these connections are romantic.

Katy is thought to be back together with ex John Mayer while Riley apparently has a boyfriend.

27-year-old Rob has even thought to have got back in contact with his 24-year-old ex.

An insider for Heat magazine said: "He was enjoying the single lifestyle, but no one gets him like Kristen.

"He misses her like crazy."

The plot thickens...will they get back together? Tweet us @sofeminineUK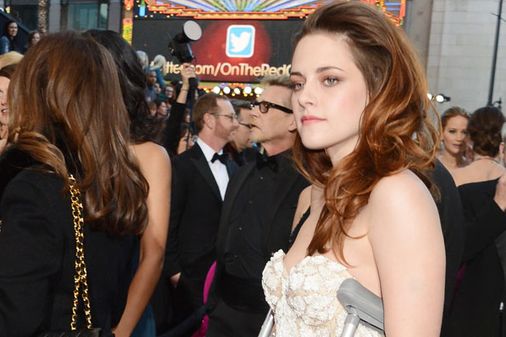 © Getty
Kristen Stewart