Lea Michele has revealed the overwhelming support she received from Kate Hudson in the days following her long-term boyfriend Cory Monteith's death.

In her first cover photo shoot since Cory's passing, Lea spoke to Elle magazine about her coping mechanisms during this difficult time and admitted that Kate was one of the first people she turned to for help.

"I called her and said, 'I don't know where I'm going to go because my house is swarmed [with reporters].'

"She was like, 'Oh, you're going to stay at my house.' Like it was nothing."

The pair became friends in 2012 when the How to Lose a Guy in 10 Days actress joined the cast of Glee as Cassandra July, Rachel's cruel 'past-it' dance teacher.

However their relationship off camera told a very different story, as the 34-year-old went out of her way to make Lea feel at home.
"She let my family stay there, and any of my friends. She made sure that in the refrigerator was full of my favourite juices.

"I'll never be able to thank her, truly, for what she did for me."

Lea and Cory met in 2009 on the set of Glee as the two main characters, and went public with their relationship in early 2012.

On July 13th of this year, Cory was found dead in a hotel room in Vancouver after taking a lethal combination of heroin and alcohol.

Since his passing, the cast of Glee have displayed a united front by having a memorial episode dedicated to his memory, and although still devastated, Lea has expressed happiness at being back on the Glee set.

However she has recently been snapped looking worryingly thin, showing that despite putting on a brave face, Lea's grief may still be taking its toll.
"It's very hard and you have to be very strong to come out of this alive, but I think by doing the best for myself, by showing that you don't have to lose yourself, maybe someone else will feel some sort of strength or comfort."

It seems clear that Lea still struggles with her new situation, as she said: "I know that Cory would want nothing more than for me to take this situation and use it to help people.

"I don't know if I will. I don't know how."

It was announced by show creator Ryan Murphy shortly after Cory's memorial episode The Quarterback that season 6 of Glee would be its last.

Do you think Lea is handling the situation well? Tweet us @Sofeminineuk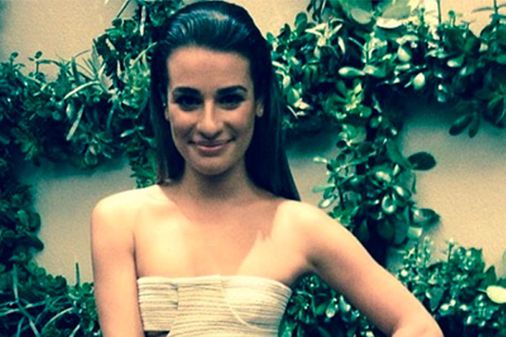 © Twitter
Lea Michele