It was Hermes handbags at dawn for the posh people on Made In Chelsea last night as Lucy and Phoebe's rivalry came to a head.

The resident bitchy – oh wait sorry, 'girls who are just honest and tell people what they think' – girls Lucy Watson and Phoebe-Lettice Thompson have been sniping at each other for weeks now over their tug-of-war match for Jamie Laing's affections.

The fighting exploded last week as they came to blows at Victoria's Bollywood themed party, with Phoebe telling Lucy her dress looked tacky, and Lucy telling Phoebe her nose ring looked "really weird."

We thought it couldn't get much worse, but of course it could!

Lucy discovered that Phoebe actually had a secret boyfriend after her friend Fran Newman-Young told her, saying: "I happen to know that she's going on this holiday with a guy she really likes and has liked for a while."
Lucy promptly responded: "She's a sl*t." Wow. That escalated quickly!"

Lucy then confronted Jamie after Binky told her that he had supposedly "picked" Phoebe, saying: "You're playing me and Phoebe off each other, explain yourself. Yes, it was casual but that doesn't mean it's a free pass to do that."

Jamie tried to justify himself by explaining the finer points of the bro code to Lucy, stating that Spencer wasn't okay with them being in a relationship.

He said: "You don't want anything and you come with Spencer Matthews' baggage. I'm not going to stand there and try and fight for you, when you're the one playing the games."
Lucy then played her trump card by telling Jamie: "Well [Phoebe] happens to be on holiday with her boyfriend, so you're not the only one playing games. You're kind of perfect for each other. You do still have her but she's got someone else too."

Aw, poor playboy Jamie. He didn't see that one coming!

Lucy seemed to have won the upper hand with the public as well, as last night "#teamlucy" was trending on Twitter, something Lucy took a smug delight in mentioning.
Meanwhile Spencer Matthews, who earlier this week was caught up an embarrassing (cough, intentional, cough) naked picture scandal which put him in the limelight, something we all know Spenny hates (cough, sarcasm, cough), started arguing with Jamie again.

Finding out last week that Jamie had slept with his ex-girlfriend Lucy, Spence reacted angrily, but fairly calmly. We should have known it wasn't going to last.
In a rather girlish fashion, Spencer told Jamie his morals were "skewed" then threw a drink in his face after discovering Jamie had slept with Lucy again, saying: "I thought we spoke about this, I think this is kind of annoying after what we spoke about it. I was trying to be reasonable with you. You had sex with my ex-girlfriend and have now found out you've f**ked her again.

"I just don't like hearing it from other people. When you end up out and about and sleeping with her again."

So basically Spencer is annoyed that Jamie slept with his ex-girlfriend who he cheated on who likes Jamie who slept with both her and Phoebe who has a secret boyfriend whilst playing Jamie. Can we just agree that they are all terrible people and move on?

Are you team Lucy or team Phoebe? Tweet us @Sofeminineuk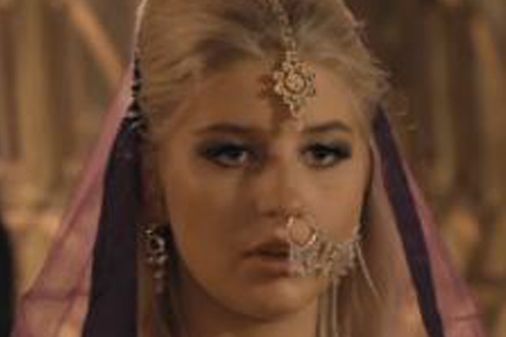 © Getty
Phoebe Lettice Thompson