At the Hunger Games: Catching Fire premiere, Jennifer Lawrence told BBC Newsnight that she hates the fact that "sex sells, and for some disgusting reason young sex sells even more."

When allegedly asked about Miley's controversial VMAs performance, the actress replied: "Twerking with a dwarf…I'm just saying, each to their own."
​
Although J-Law never expressly criticised Miley Cyrus and her new sexed up pop persona, the We Can't Stop singer was apparently peeved at what she saw to be Jen's superior attitude.

To make matters worse, Jennifer has been seen lately on the red carpet flashing more flesh than ever before, most recently rocking a black Dior gown with sideboob aplenty.

The Silver Linings Playbook star also been particularly tactile with Miley's former fiancé Liam, who plays her love interest in the Hunger Games film series.

According to sources close to Miley, the Wrecking Ball star is absolutely furious with Jen and has had enough of Jen's arrogant behaviour.

"Miley's mad as hell. She thinks Jen is such a hypocrite – she basically wears nothing but body paint in X-Men – how is that not using sex to sell? And then, she was all over Liam on the red carpet," an insider revealed to Heat magazine.

"Miley feels like Jennifer always tries to act like such a feminist in all her interviews, but then poses in a revealing dress to promote her film. That seems so fake to her."


Film actress, TV actress
born 15/08/1990
Another source adds that Miley attempted to build bridges with Jen back in April by complimenting her new hair on Twitter, after the actress cut it into a shoulder-length bob.

The 21-year-old wrote: "I love JLAW's new hair cut!" Which was met with complete silence from Jen.

Apparently the A-listers haven't seen eye-to-eye for years, since Liam shot the first Hunger Games movie with Jen three years ago.

The insider explains: "Liam kept telling Miley how great Jennifer was, so that got her back up. Then, when they met, Miley felt like Jennifer focused all her attention on Liam and made no effort with her."

Now seeing pictures of Liam and Jen cosying up on the red carpet has clearly made the pop princess even angrier.

"Miley always suspected that Jennifer didn't like her and she suspected that she would side with Liam over her. These pictures of them getting so close have made her see red."

Are you Team J-LAW or Team Smiley? Tweet us @SofeminineUK.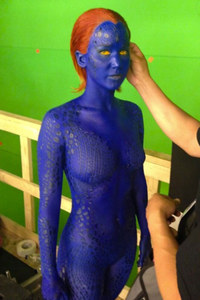 © Getty