Miley Cyrus was delighted to perform with Madonna as her attention seeking – we mean, performance theatricality – went to new highs as she twerked a pantomime horse and spanked the iconic star.

For the song to close her MTV Unplugged special, the now infamous twerker sang a duet with Madonna in a slightly underwhelming rendition of Don't Tell Me mashed up with We Can't Stop.

Following the performance, Miley tweeted: "I SPANKED @Madonna (hard) (& she liked it).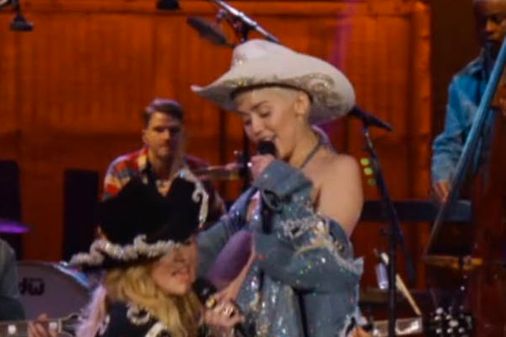 © Youtube
Miley Cyrus and Madonna
Oh Miley, when did you become this way? At what moment did you decide spanking everyone would be your defining feature? We're not angry, we're just disappointed.

Madonna seemed to be enjoying herself though, and Miley was delighted to be performing with her. She said: "So, it sounds super lame, but as a pop star it's pretty cool performing with Madonna."

She also compared herself to Dolly Parton, writing: "just channelling my inner fairy godmother", along with a snap of her country western outfits in comparison to Dolly's.

Miley also told the crowd how she wanted to go back to her country western roots. She said: "I tried to bring Nashville here for the night", before singing with a southern twang for her first song. After her performances, the Wrecking Ball singing said: "That was pretty f***ing cool you guys. It was one of those days that was pretty easy to get out of bed.

"I get to perform with Madonna in bedazzled cowboy boots. I can't really complain about anything."

She also joked: "MTV's paying me today in ones so we can all go to the strip club after this."

Classy as ever Miley. Classy as ever. This is the first time we've seen Miley out and about in a while, since she skipped Sunday's Grammys to play Guitar Hero, posting the video on Instagram with the caption: "Video of tonight's performance."
Do you think Miley has gone too far? Tweet us @sofeminineUK