One Direction are the subject of fake gay love stories on the Internet.

The fiction sees the boy band - arguably the most famous five guys in the world - involved in orgies.

Some of the tales even focus on a made-up romance between Harry Styles and Louis Tomlinson.

But this isn't the first time a relationship between Harry and Louis has been dreamt up.

Earlier in the band's career, Twitter rumours that the pair were more than just best mates had Louis pretty riled.

Louis, 21, told Storyboard magazine: "Me and Harry are best friends, people look into our every move. It is actually affecting the way me and Harry are in public.

"We want to joke around but there seems to be a different rumour every time we do anything."

© Getty
Louis Tomlinson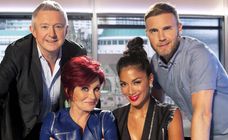 He continued: "I act the same way with Harry as I do any of the other boys and my childhood friend Stan."

Louis was especially annoyed because he is in a long-term relationship with part-time model Eleanor Calder.

He added: "This is a subject that was funny at first but now is actually hard to deal with as I am in a relationship."

1D's warts 'n' all movie This Is Us is set for release this summer.

Though the film will look in detail at the lives of the pair plus their band mates Liam Payne, Zayn Malik and Niall Horan, it won't address the rumours surrounding "Larry" - the name given to Louis and Harry's bromance by fans.

A fan asked producer Ben Winston on Twitter: "I heard Louis talks about the Larry rumors in the movie, is he really gonna?"

But Ben replied: "No! Its the most ridiculous made up thing ever! Why would he comment on that!!"

© This Is Us
One Direction - This Is Us