Harry Styles has confirmed his single status and the One Direction fan base has exploded with happiness as a result.

The 19-year-old singer and his bandmates were interviewed on Good Morning America yesterday, where the presenter couldn't resist quizzing them about their love lives, and unlike Harry's hesitant answer during the interview with Piers Morgan, this time he gave a more definitive confirmation that he was, in fact, single.

When presenter Robin Roberts asked "Who's still available?" the One Direction boys started laughing, whilst Harry and his fellow bandmate Niall Horan raised their hands. The reaction from the hordes of fans hanging outside the studio was deafening. We get it – you're glad that they are alone!

This would suggest that the rumoured romance with 18-year-old Kendall Jenner is less true than we thought, especially as Kendall has also insisted that they are just friends after the two were snapped going out for dinner and hanging out at Kendall's father's beach house.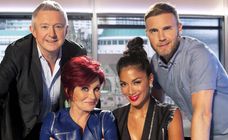 Such a shame! Or is it? Do One Directioners want Harry to be happy? Is his lack of relationship good or bad news? Someone tell us!

And yes, Niall is also a single pringle, but still isn't too happy when fans are ringing his hotel room at all hours of the night as he tweeted: "Please girls, I gotta be up in literally a few hours for GMA. Please stop calling my room!"

Rumours that he and X Factor hopeful Tamera Foster hooking up also may not be true, although a source told The Mirror: "Tamera is really keen on Niall and he thinks she is absolutely gorgeous. They are hoping to meet up really soon but they both have very busy schedules.

"Whatever happens they will be seeing each other in a couple of weeks for the X Factor final."

However, if this recent confession is anything to go by, looks like Niall will be avoiding her backstage!

What do you think? Tweet us @Sofeminineuk

© Getty
Harry Styles and Nick Grimshaw