Kensington Palace has released the first official photos of Kate Middleton and Prince William with baby George.

In a break with royal tradition, the snaps were taken by Kate's father Michael, as opposed to a professional photographer.

This adds a lovely personal touch to the pictures, which were captured in the garden of the Middleton family home in Bucklebury, Berkshire.

In one of the photos, Kate holds a sleeping Prince George - apparently completely unaware of what's going on around him - as Wills stands next to her protectively.

In a second snap. the family are joined by their black cocker spaniel, Lupo, and the Middletons' golden retriever, Tilly, as they sit on the grass.
George is now four weeks old and has not been seen in public since the day after his birth, when Kate and Wills debuted their son to the world outside St. Mary's Hospital's Lindo Wing.
​Kate, 31, looks to be taking to motherhood well and wears a fuchsia Seraphine dress in the snaps, her hair blow-dried to perfection into soft curls.

Wills, meanwhile, sports a checked blue shirt with jeans and looks happy and relaxed in his new role as a father.

Amateur photographer Michael Middleton beat off stiff competition from industry favourite Mario Testino to take the pictures.

Though it was originally thought the family would sit for an official portrait, the new parents apparently decided to release personal images so they didn't disrupt their baby's routine with a photoshoot.

And Kate's not such a novice when it comes to this kind of thing - she used to work as a photographer for her parents' company Party Pieces, so she will have had the final word on what was sent out.
Prince William yesterday gave his first interview since baby George was born on 22nd July.

He said: "He's a little bit of a rascal, I'll put it that way.

"He either reminds me of my brother or me when I was younger, I'm not sure, but he's doing very well at the moment."

He described his firstborn as a "little fighter" and said he was "growing quite quickly".

And it seems he's been giving the couple some sleepless nights - not that you'd know it from their fresh faces in the pictures!

Wills, 31, continued: "He kind of, he wriggles around quite a lot. And he doesn't want to go to sleep that much, which is a little bit of a problem."

He added of their dog Lupo: "He's been slobbering sort of around the house a bit so he's perfectly happy."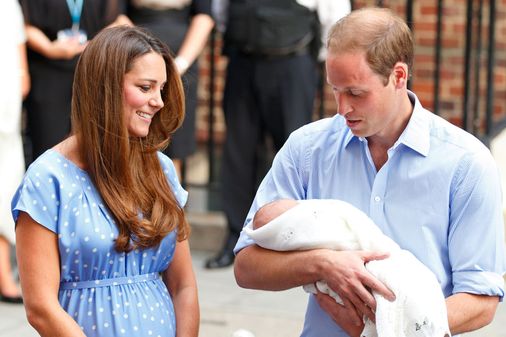 © Getty
Kate Middleton, Prince William and baby George