It was sensationally claimed in a US tabloid yesterday that Simon Cowell is expecting a baby with American socialite Lauren Silverman.

Though as yet there's no official confirmation from Simon's camp on the news, multiple sources have come forward to back up the claims.

Simon's mother Julie, 87, told The Sun: "I've not heard anything officially. But if it's true then I'm absolutely delighted. It's wonderful! He'll make a fantastic father. He'll be great."

Oddly, the X Factor boss has always been upfront about his aversion to fatherhood - so what's changed?

If insiders are to be believed, the pregnancy may not have been intentional on Simon's part - but Lauren's been keen to start a family with him for a while.

A friend of the music mogul told Mail Online: "She has apparently been going around telling people for the last three to six months that she is going to have his baby.

"Simon has been very stressed in the last few months with his various shows and juggling everything that he has in his life."

A pal of the 36-year-old socialite added: "Lauren loves Simon, she says that she wants to marry him.

"And with the baby, she's going the right way about it! But I think this could be really good for Simon."

© Getty
Lauren Silverman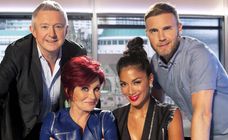 However it happened, there's apparently no doubt that Simon will accept his responsibilities and support the child.

Simon's friend continued: "In the harem hierarchy, Lauren is regarded as the fun, party girl. Simon is [said to be] freaked out by this but there is no question that he will not support the child."

And now the 53-year-old multi-millionaire is reportedly arming himself to protect his huge fortune.

He has apparently hired tough LA lawyer Marty Singer to help him with proceedings.

Both friends and former girlfriends are said to be in complete shock that this has happened.

One source said: "He is an incredibly well-prepared man who is very controlling and no one can believe in a million years that he would make this kind of mistake.

"Knowing him and the way in which he controls every aspect of his life it's astonishing that this has happened.

"He is not one of those men who would have [had] a child in this way - it just seems so out of character.

"There is a sense of astonishment amongst his circle of friends over this news."

Exes, including Mezhgan Hussainy and Sinitta, are said to have been very affected when they found out.

© Getty
Simon Cowell with Mezhgan Hussainy and Sinitta
Former pop star Sinitta even appeared to refer to the headlines in a tweet: "Something has just happened ..half miracle, half nightmare! #WakeMeUpIWantToGetOff!!"

What makes the situation even more awkward has to be that Lauren is the soon-to-be ex-wife of Simon's friend Andrew Silverman.

The group have holidayed together for years, but it seems Lauren and Simon only grew close after her marriage broke down.

A source said: "Lauren and Andrew have been unhappy in their marriage for some time, and their divorce has been in the works for a while.

"As their marriage deteriorated, she and Simon became close."

Do you think Simon will make a good dad? Tweet us @sofeminineuk