Zayn Malik's most recent tattoo was a cartoon-style inking of fiancée Perrie Edwards.

Just months later, the 20-year-old One Direction star has made another visit to the parlour.

But his latest design doesn't seem to have a connection to his Little Mix lover.

Zayn stepped out in Australia today - where One Direction have just landed for their Take Me Home tour - showing off a tattoo of a tiger at the top of his left arm.

Peeking below the sleeve of his t-shirt is the tail and bottom half of the animal, which takes up most of his upper limb.
It's fair to say Zayn is no stranger to the tattoo parlour.

As well as the tiger design and his inking of Perrie in a beanie hat and jacket, he has tattoos including the word "Zap" on his lower arm and a huge microphone next to it.

Zayn also has "The pirate life's for us" written across his ribs, wings on his chest and a wolf on his shin.

Fortunately, Perrie is a fan of Zayn's collection of inkings.

He told Now magazine: "Oh yeah! She likes the whole rock'n'roll look. She likes my tatts."

He added: "I want to fill my entire right arm up to my elbow to start.

"I've got loads of ideas. I draw as well. I'm more addicted to coming up with the ideas of what I can get tattooed rather than the actual tattoo itself."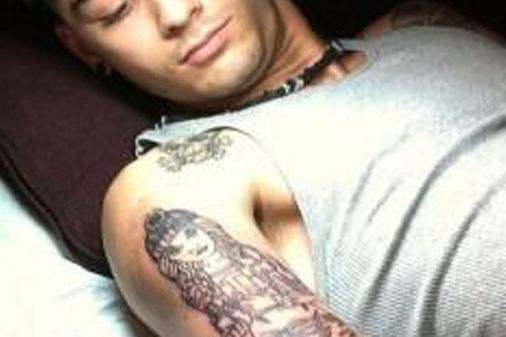 © Twitter
Zayn Malik's Perrie Edwards tattoo
Zayn and Perrie will have had to say a tough goodbye before he flew off to Oz.

One Direction play their first date in Adelaide tonight and will be there for two more gigs before moving on to Perth, Melbourne, Sydney and Brisbane.

They'll also be performing in New Zealand and won't be finished until the end of October.

Louis Tomlinson has clearly found it tough to be parted from girlfriend Eleanor Calder.

He tweeted: "Saying goodbye's s**t!!"