Author of 50 Stories, Holly Kearl is determined to inspire women to stand united and spread the word in hopes to end street harassment for GOOD. This is her story...

Holly, 30, works on a consultancy project with the UN, but when she has free time, she collects real-life stories from street harassment victims all around the world. Her powerful book, 50 Stories collates these together and aims to inspire women to stand up for themselves and to put an end to street harassment forever.
The Virginia resident also runs a website to support women, Stropstreetharassment.org. When she started her blog 5 years ago she was getting as little as 10 hits per week, but as people grew more aware of it's presence women were quick to speak out and share their experiences. The website now gets more than 20,000 hits per month, proving how important the issue is for women.
She told LOOK magazine: "I didn't realize it would mean so much to women...at one point #50stories was trending worldwide. We had people tweet their experiences from so many different countries too, it was incredibly powerful and devastating."
Holly was initially inspired to start her blog after an evening jog. She described her own experience as "verbal rape".

​She said: "I remember jogging through a housing estate. There were six men standing outside a building and one said: 'Why is she running funny?' and the other said 'Because I'm coming in her from behind.'"
The crude men started laughing and Holly stopped to glare, but then quickly realized she was on her own so ran away. We would have too! But, it's so important women realise that they shouldn't have to put up with harassment like this, however big or small.
She continues: "Some people dismiss street harassment as a 'compliment' but you never see men shouting seedy 'compliments' at other men. It's about them assuming control and bullying. And it's not acceptable."
Women need to know that this type of behavior isn't acceptable and that we shouldn't have to deal with outrageous comments from men in trepidation of what could happen to us.
Her book, 50 Stories includes experiences from women, between 15-55 year-olds in 16 different countries, from the USA to the United Kingdom and as far out as Afghanistan.
She hopes the book will inspire people to take a stand as thousands have done on Twitter using her hashtag #50Stories.
One particular incident that struck our attention was this woman, who said: "[I was] walking with my daughter on my way to a memorial service. Man took it personally I wasn't smiling, and after being called an 'ungrateful bitch', had to explain to a harasser that I did not ask for his compliment or attention."
At the end of the 50 Stories book there is a section where women can write 3 things they'd like to do to when faced with harassment. Then, next time you're faced with a harasser women can be better prepared to defend themselves.
The avid campaigner also runs protests and demos to promote her message. She said: "If people learn at a young age that behaving this way isn't acceptable, maybe we stand a chance of getting rid of it for good."
Sofeminine are in!
What 3 things you would do if faced with a harasser? Tweet us @sofeminineuk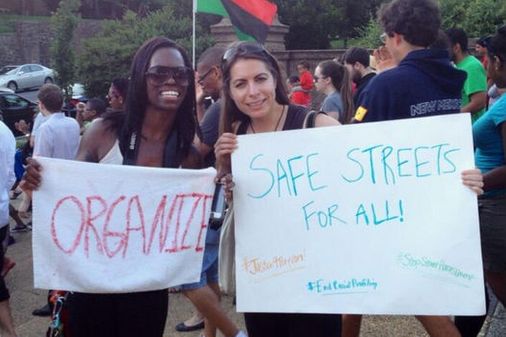 © Twitter
Holly Kearl