Since Fashion Month has come to an end, we think it's apt to launch our Wednesday Wisdom series with the indomitable Anna Wintour! As expected, she sat front row at all the hottest shows, making mental notes of what to feature in the coveted pages of US Vogue where she's been the editor-in-chief for over twenty years.

Although we're always dying to know what designers she's loving, her eye for style isn't the only thing we envy about the mysterious Wintour. Over her storied history, she's taken major risks that have led to major rewards.
​The English careerist didn't attend college. (Yup, ladies, you don't need a degree to reach the pinnacle of your profession. Determination and little bit of networking will get you to high places!) She jumpstarted her career in fashion journalism at Harper's Bazaar UK and moved onto the US edition in NYC by 1976. In the late 80s, she was brought on as the editor-in-chief at House & Garden where she made merciless changes that some people believe caused the magazine to fold.

Nevertheless, Condé Nast knew Anna was a gem and offered her the editor-in-chief role at Vogue. Her first infamous Vogue cover featured stunning Israeli model, Michaela Bercu, in a $10,000 Christian Lacroix jacket with $50 blue jeans. The mixture of high and low pieces made fashion feel accessible and fun again, marking a new era for Vogue! Since that November 1988 issue, Anna's been an industry force. Alexander McQueen, Marc Jacobs and many other successful designers credit her for giving them recognition early in their careers. Anna ultimately turned the fashion mag into a must-have subscription for anyone who wants a career in the industry.
Check out our top 10 favourite pearls of wisdom from Anna Wintour!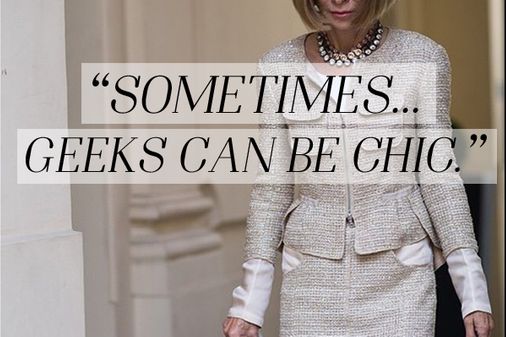 © weheartit
Anna Wintour, Wednesday Wisdom
Anna Wintour's achievements stem from her colorful vision. Who else can convince LeBron James to pose with Gisele Bundchen at the height of his career, shock the world with the notorious Kim Kardashian and Kanyé West issue, or be forever immortalised as a boss bitch in Devil Wears Prada? Only Anna.

Even if you don't always agree with her fashion choices, Anna's tenacity, work ethic, and confidence in herself are qualities that every working woman should admire!
Which piece of #WednesdayWisdom is your favourite? Tweet us @sofeminineUK!
This article was written by Carla. Follow her @karlawitha_c.
You Might Also Like:
100 Of The Best Fashion Quotes
What Really Goes On Backstage At A Fashion Show?