Jennifer Aniston is finding herself at the centre of yet more rumours she's pregnant with Justin Theroux's child.

The former Friends actress got engaged to Justin in August last year and the pair's wedding plans were thought to be well underway - but now it seems their big day has been postponed.

This delay has sparked rumours that Jen could be expecting her first child with Justin, 41 - especially after she recently stepped out with cupping marks on her back.

Cupping is a detox therapy that is said to extract impurities and help with everything from circulation to neck pain - as well as boost fertility.
The Belfast Telegraph has even claimed the actress has been seeking fertility advice from close friend Gwyneth Paltrow, who also had children later in life.

But 44-year-old Jen is also reported to be looking into adoption and surrogacy options.

Whether or not Jen and Justin's wedding has been postponed because of their plans to build a family, we're gutted the big day has been put back.

The Daily Mail has reported that the ceremony is in fact delayed because Jen has been unable to make plans as she's been busy promoting her upcoming movie, Call Me Crazy: A Five Film.

In March, People magazine reported that the happy couple had already designed their wedding rings and that the guest list of the "small affair" included Courteney Cox and Chelsea Handler.

A source told the Daily Mail: "Jen and Justin have been totally relaxed about the wedding planning.

"They're looking forward to the wedding, but they have different ideas about the actual wedding itself. It's not to do with them as a couple, they're madly in love. Every time you see them they've got their arms around each other."

Perhaps Jen has moved her wedding day to ensure it doesn't clash with ex-husband Brad Pitt's.

Brad is expected to marry Angelina Jolie on their French estate at the end of May, when many of their Hollywood friends will already be in the country after the Cannes Film Festival.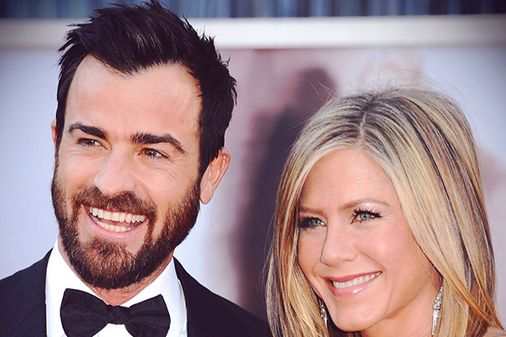 © Getty
Justin Theroux and Jennifer Aniston