The lives of the Made In Chelsea lot had all got a bit stressful - they were in need of a good relaxing holiday.

Not sure a trip to your ex's villa, with your new man and his ex-girlfriend and her best friend who also hates you is exactly what we would call relaxing.

But that's what Lucy Waston signed up for (but as she said - at least Stevie was there!).

So, let the games begin...

After some absurdly awkward conversation between Lucy, Spencer Matthews and new boy Alex Mytton, the group headed out for drinks.
Spencer quickly took his chance to tell Lucy he wanted to be with her - and it didn't take long for the chips to fall exactly where we knew they would.

Or as Spencer so eloquently put it, Lucy was "ready to take the dice."

We were hoping for some more Spanish drams but we had to make do with Jamie stirring the pot, telling his pal: "I think it's too soon, you're not ready for a relationship."

Back in London we got everyone's reactions to the newly loved-up pair, who sealed their relationship with a kiss just hours after Lucy had put Alex in the friends zone.

Needless to say, not everyone was supportive of the new romance.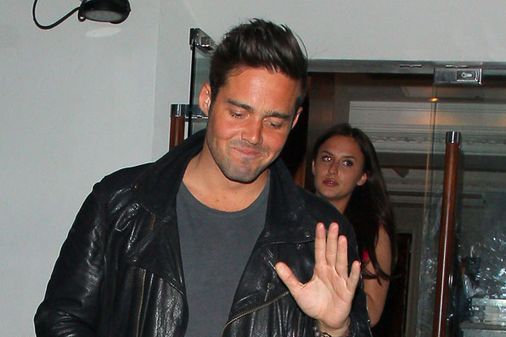 © Getty
Lucy Watson and Spencer Matthews
Typically sweet Binky Felstead did tell Lucy it was "sweet" after she informed her "it's going so fast and it's so good."

Though Binky did inform the original Made In Chelsea player: "You played a really sh*t game."

Cue Jamie Biscuits' arrival, who quickly told it like it is and "literally just rained on [Lucy's] parade."

Spennie's best bud proceeded to tell Lucy how much of a mistake they were making, despite the news that Spencer had told her he was "falling" for her.

Jamie's opinion didn't change when he spoke to the rest of the lads about it and later Spencer himself.

He predicted: "He's going to cheat."

Surprisingly enough, Pug didn't take too kindly to this and confronted his best boi.

He told him: "Jamie, it's not up to you to think what I'm thinking."

In fairness to the new pair, Lucy did point out that perhaps Jamie wasn't the best judge, given his recent cheating on his girlfriend Tara.

Furthermore, swing back to Barcelona and remember just how inappropriate he was with smug flirt Phoebe Lettice.

She 'innocently' asked: "Do you want to eat me, are you going to ride me around the pool?"

Don't worry Tara - Phoebe later insisted "she'd never think of him in that way."

Sure.
Elsewhere, lost boi bros Oliver Proudlock and Francis Boulle stayed on home turf and rediscovered exercise.

The lads met a new girl who, like so many in this royal borough seem to, does "a bit of singing and a bit of polo."

Shame they seemed to fancy each other more than the pretty blonde, Olivia Newman-Young lookalike, Bea.

Elsewhere in loved-up Chelsea, Binky and Ollie Locke showed just why the show won a BAFTA for its awkward pauses.

The silly pair tried to set-up Fran Newman-Young with either Oscar or Richard Dinan.

After discussing Richard's underground bunker, we can't say we saw any visible sparks flying.

As always, MIC bosses have made next week's finale (sob) episode look even more exciting - and it seems like we'll get some more Andy Jordan screen time.

Yum.