Millions of girls would argue that One Direction are fit enough already - but that's not what their record bosses think.

The band are about to embark on the US leg of their world tour and executives at Columbia want them to be in tip top shape for it.

Harry Styles, Louis Tomlinson, Liam Payne, Zayn Malik and Niall Horan are on a strict low-carb diet and are attending regular boxing classes and circuit training sessions.

Professional Mixed Martial Arts trainers Jimmy Wallhead and Mark Jarvis have been helping the boys get fit, and Liam has even been gaining weight and building up his muscles with protein shakes.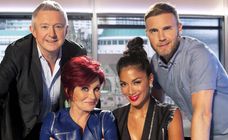 A source told 3am: "It's important for the boys to be in the best shape physically possible for these dates.

"Bosses don't want half measures, and as the boys spend a lot of time travelling, there can be a tendency to eat junk food and play lots of video games.

"But thanks to Mark and Jimmy's new regime, they've been working out lots more. Harry has really bulked up his arms, and Liam has a sturdy set of abs.

"Niall, Louis and Zayn have been working out with separate trainers, but they're getting into it, too.

"Their trainers have insisted they eat healthier food, and it helps that they had healthy catering for the UK leg of their tour.

"It's a great starting point for all the hard work they're going to have to put in ahead of their stadium tour next year."

1D announced their 2014 worldwide stadium tour last month.

The Where We Are tour will kick off in South America in April and will also see the band hit North America and the UK, including Wembley Arena.

© Getty
Louis Tomlinson
The boys are taking a well-deserved break from their Take Me Home tour at the moment, before they head across the pond.

While Harry, 19, has been spending time with his family - including acting as Best Man at his mum's wedding - 19-year-old Niall has been catching up with friends.

He tweeted: "Had a lovely few days at home ! Great t see everyone! people I havnt seen in ages! Had great Craic aswell!"

Meanwhile, Liam, 19, has been adapting to single life after his split from Danielle Peazer and 21-year-old Louis has been spending time with his girlfriend Eleanor Calder.

And Zayn, it seems, is taking his new diet pretty seriously.

The 20-year-old tweeted: "Think I'm gonna have some weetabix with a banana now


."

© Getty
Liam Payne