Katie Price wasn't happy when she was turned away from a tanning salon because she's pregnant.

The glamour girl - who's expecting her fourth child - was told she couldn't have a sunbed treatment because she wouldn't be insured.

Abi Williams - who owns Tan Fx in Caterham, Surrey - spoke of the incident on her Facebook page.

She wrote: "Just turned Katie Price away from a sunbed – ouch!!

"She is quite heavily ­pregnant. Apparently salons near her do (let her use sunbeds) but, as much as she's a great ­customer, it's not worth the risk.

"It's not against the law, but I run a tight ship and she wouldn't be insured... hopefully see her again once she has had her baby!"

Abi later removed the post.

Katie, 35, is adamant that sunbeds are not dangerous when pregnant and so quickly found the treatment elsewhere.

Her spokesperson said: "Katie went to another salon where she was not treated as though she were abnormal simply because she is pregnant.

"Katie has taken medical advice on this issue and is happy that occasional short use of sunbeds is not an issue during pregnancy."
Despite this, health bosses do not recommend that expectant mothers use sunbeds.

A spokesman for the Government's new Public Health England organisation said: "The World Health Organisation's advice is that pregnant women should not make use of UV tanning equipment.

"Public Health England agrees with this advice and also discourages the use of sunbeds for cosmetic tanning."

And the NHS Choices website agrees: "Some studies show that there may be a link between increased UV rays and a folic acid deficiency. This is because UV rays can break down folic acid.

"Folic acid is very important in the development of the baby's neural system (brain and spinal cord) which is formed during weeks one to 13 of pregnancy."

Twitter users were of course horrified by Katie's insistence to be exposed to UV rays while pregnant.

One wrote: "@misskatieprice is a vile woman. Kicking off because she couldn't use a sunbed heavily pregnant. Have a spray tan you bitch. #onlyanobsidol."

But the feisty businesswoman replied: "Your find if you do your research sunbeds are ok to use during pregnancy but fake tans are not recommended stupid cow."

Katie is thought to be around six months pregnant with her husband Kieran Hayler's baby.

She and Kieran, 25, married last year after dating for just a few months, before falling pregnant soon after.

Katie is already mum to Harvey, 11, Junior, seven, and five-year-old Princess.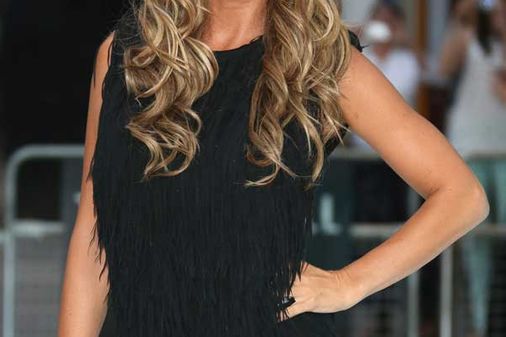 © WENN
Katie Price