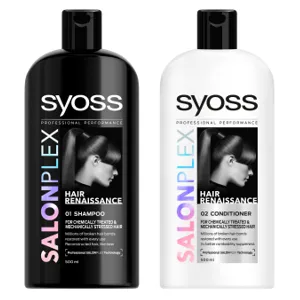 Syoss
SALONPLEX Hair Renaissance Shampoo & Conditioner
Category:
Hair
Price: £0 - £5
Description :

Category: Hair
Product type: Shampoo & Conditioner
Price: £3.00 each
Syoss offers salon-perfect results every day with the new, revolutionary SALONPLEX repair range. This innovative system harnesses the innovative Plex technology usually only seen in salons to restore millions of broken hair bonds in the hair for stronger, shinier, healthier-looking hair.
Constant blow drying, straightening and colouring can damage the hair shaft over time, resulting in split ends, breakage and a rough-to-the-touch texture. syoss SALONPLEX shampoo and conditioner delivers an instant solution to these hair woes by using a unique system that repairs the inner and outer structure of the hair, resulting in soft, manageable locks. Metal ions and organic acids in the range help to bridge broken hair fibre bonds whilst sealing in nourishing ingredients to the innermost layer of the hair for long lasting results.
The conditioner, used after the syoss SALONPLEX shampoo, will leave hair up to three times more manageable compared with untreated hair and the serum promises an instant, deep repairing action leaving hair soft and shiny.
Available at Tesco stores and Tesco.com.
THE EXPERTS' OPINION
The reviews are sorted according to their date of publication

Liked the style of the bottles with the flat surfaces made it easier to store. Shampoo and conditioner had a lovely smell and also didnt have to use too much as lathered up very well. Left hair feeling a lot more shiny and with a lovely smell

Excellent! My hair felt strong and shiny after the first treatment! Smelt lovely and wasn't heavy. Will definitely be using again!

Wonderful product, after using blow dryer and straighteners constantly my hair are in bad condition I have to use alot of frizz free products,oils and serums in order to tame them. I have used this product the smell is divine and hair feels clean and fresh and conditioner leaves my hair smooth and soft. Good product.

Usually, i go through shampoo faster than toilet-roll, i know it's an unusual comparison but i have fairly lengthy hair and it's takes quite a bit to get it to foam all over and clean properly However, from the first use it was clear that not only it makes my hair feel silkier and smoother than most other brands, but, what i would usually use from any other shampoo - would be far too much for this one It took me about 10 mins of rinsing to get all the bubbles out on my first wash, and again after the second use (and i had halved what i used the first time) By the 4th or 5th use i had it down - just a bit less than a quarter of what i usually use with another shampoo does the trick :D As for the conditioner - amazing, it is just so smooth The effect on my hair, is it feels so much healthier - got a lot more bounce in it! which is great because my hair is dead-straight and doesn't usually have any volume, so the added bounce and healthy feel is so nice I would strongly recommend this product to anyone who suffers from dry, lifeless hair, split ends, or just likes shiny smooth feeling hair, Love this product ! Need to make sure i know where i can buy it from when i don't have any left

Really liked the smell and texture of the products. The shampoo lathered really well. Hair felt a bit dry when washed conditioner out but when dried my hair looked and felt softer and shiny.

Brilliant shampoo and conditioner, great smell and makes your hair feel smooth and nourished, it really makes a difference to your hair. I will be definitely buying some more of this. Thank you

Loved the smell of the shampoo and conditioners, but after washing with the product for a few weeks i can not see any sort of change.

These products smell nice and leave my hair feeling clean and soft but I didn't notice any special results that I don't already get from my current shampoo and conditioner

I am really impressed with the Syoss shampoo and conditioner. It lathers well and I can honestly say that my hair has never looked better. I regularly straighten my hair and I can see an improvement in the condition of my hair after only 2 weeks. My hair is bouncy, shiny and full of body and my curls are defined and free from frizz. It is a fraction of the cost of my normal shampoo and conditioner and I will be sticking to this in future.

This product is amazing especially as it is so inexpensive. My hair is usually quite dry, dull and frizzy however, after using this product it was so shiny and healthy looking. It also made my hair a lot smoother. I will definitely be repurchasing this and trying other items from this brand.
---
Comments
The reviews are sorted according to their date of publication


Amazing product. My hair is very coarse and dry as I have asian thick hair! Hence, I often struggle with a shampoo and conditioner that suits me. This one suited me so well, specially the conditioner left my hair smooth, soft to touch and smelling nice. Love it!


I have ombré dyed hair, natural brown roots bleach blonde ends. My hair is quite thick with greasy roots, dry ends. I was very impressed with both products. The shampoo has a great smell and left my hair feeling squeaky clean and the conditioner again great smell and left my hair silky smooth. I have noticed a huge difference to my hair since using. Its a lot more smoother and shiner. Doesn't effect the colour either. Very impressed.

Leaves hair shiny but their are better

I received Syoss Salonplex Hair Renaissance to review, but the parcel was left outside my house and I only found it a couple of days ago. Apologies for the late review. Hair Renaissance is available in 500ml bottles, which is great for someone like me who has long hair - a bottle of shampoo or conditioner never lasts that long! The fragrance is very fresh and pleasant. The shampoo is quite silky while the conditioner has a creamy consistency. The shampoo rinses out easily and leaves the hair feeling wonderfully clean. The conditioner helped to detangle my thick hair, and left my hair feeling soft and nourished. The overall result was soft, shiny hair. A great budget shampoo and conditioner that's more effective than some higher-end products.

excellent! left my hair shiny, strong without feeling heavy. will definitely be using this in the future!

Fell in live with these products as soon as the first wash. Lovely full sized bottles...simple but effective labelling. I have thick hair but didnt feel like i needed to use a lot to lather it all in. Lovely smell to both the shampoo and conditioner. Left hair feeling a lot smoother and shiny. Very imprrlessed with this product and also think the price is very good

<span>I have oily roots and dry mid lengths to ends, with split ends. I loved both products, cannot believe that they are this cheap to purchase for the quality. Will definitely be buying some more when I run out. Great budget product that is excellent quality. Obviously not going to be as good as higher end products however for the price the quality is insane. Left my hair silky soft and easy to manage, it's usually quite frizzy but this shampoo and condition duo have helped it a lot. Not noticed much difference with my split ends but I have only been using for around a week so perhaps with prolonged use of both products together over time I will see a difference. Very impressed - I would recommend to a friend and I would definitely repurchase these products.</span>

amazing product - great for afro hair and notice the difference to my hair. Used the conditioner then shampoo in that order and it was good for keeping my hair nice and bouncy for easy styling afterwards
YOUR OPINION ON THE PRODUCT
Subscribe to our newsletters
Subscribe to our newsletter and never miss our latest product tests and news