If they haven't already fallen out then there just might be a DKNY dispute on the horizon as Rita Ora has replaced BFF Cara Delevingne in the fashion brand's latest campaign.
After sealing the deal as the new face of Madonna's Material Girl range in June, it seems singer Rita's now set her sights on breaking into the fashion industry.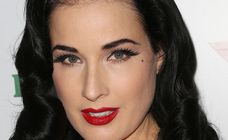 Strutting her stuff on the streets of NYC, Ora rocked her first DKNY street style photo shoot in sequins and leathers. Talk about stopping traffic in Times Square.

© GETTY
Rita Ora named as new face of DKNY
She certainly didn't need any tips from her catwalk pro wifey with her posing prowess and sultry gaze.
In one shot, Rita leans up against an iconic yellow cab in a gold sequin midi skirt, a collared shirt and a black sweater. But the only thing we're hooting our horns about is those cut out shoes. Hello, size 6 please.
She mixes the urban sports vibe of London with the city chic of New York, topping off her nonchalant ensemble with a baseball cap and bling rings aplenty.
Fortunately for us, Rita posted a series of behind-the-scene shots of the shoot on her Instagram and later expressed her thanks for everyone's support.
She said: "'Thank you bots for coming out!! Today was awesome you always crack me up! Didn't even feel like work I love you! More then you'll ever know... #DKNY #NYCNights #TimesSquare."
What do you think of Rita's DKNY campaign? Better than Cara's? Tweet us @sofeminineuk