1. She is trilingual
Amal was born in Beirut, Lebanon and is fluent in English, Arabic and French. Which basically means she can dirty talk to George Clooney in thrice as many languages as the average gal. Why are we not surprised.
2. She's a human rights lawyer and went to Oxford
After completing her degree at the University of Oxford, Amal went to New York University to get her law degree, then joined Doughty Street Chambers firm in London. She represented WikiLeaks founder Julian Assange and is on a variety of UN Commissions. So yeah, she's not smart at all.
3. She was voted Hottest Barrister in London in 2013
That's right, Tumblr voted her the Hottest Barrister in London in 2013 and we have to say it is well earned, she's a 5'8" and has some of the strongest eyebrows in the Hollywood game. She also has legs for miles and she is the only celebrity besides Beyonce that has a fan follow her around so that she has wind flowing through her hair.
4. Her and Clooney were married by the former mayor of Rome
Turns out when you're part of Europe's elite you can't just have a regular old minister marry you, you need to have Rome royalty do it. Walter Veltroni hitched the two lovebirds this fall and she wore a cream jumpsuit and fabulous bonnet... N.B.D.
5. Her and Clooney also casually bought a £10 million house on River Thames
After their wedding in September, the all-star couple decided to make a tiny investment and buy a Mill House in at Sonning Eye in England. With that price tag, it is probably a palace. Watch out Princess Kate.
6. She published a book on law in Lebanon
Many female celebrities have published books about all sorts of riveting things like fashion and makeup tips. Amal on the other hand had to take it to the next level and write a book on law in Lebanon called "The Special Tribunal for Lebanon: Law and Practice." She makes me feel like I have accomplished nothing in life.
7. Her parents are also smart as hell
Her dad was a professor at the University of Beirut and her mom is an esteemed journalist and editor of the international Arab newspaper, Al-Hayat. Now we can definitely see where she gets her brains from. Great genes, Amaluddins.
8. She is kind of from Lebanese royalty
Her family is from the Lebanese Druze family which has ties to the sheikhs of Baaqline. One of the most prominent families of old Lebanon. As far as we're concerned that just solidifies her in our mind more as a total princess. With cheekbones like that she has to be royalty.
9. They had a perfectly tiny wedding with LOTS of tequila
Amal and George had a tiny 60 person wedding, which Amal's parents completely paid for and lasted a total of 18 minutes. Kudos to the Clooney's for knowing that nobody wants to sit through a wedding longer than 20 minutes. Not even your grandmother. Cindy Crawford's husband was best man and brought 50 cases of tequila for the wedding, which means we DEFINITELY should have been on the guest list. Matt Damon, Bono, Bill Murray, Emily Blunt and John Krasinski all made the cutoff for the shindig. We forgive you for forgetting our invite.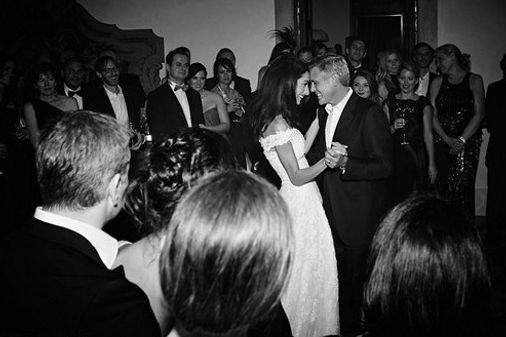 © We Heart It
10. Her estimated net worth is $2 million
So in addition to being beautiful, successful and in love, she also happens to be a millionaire... because why wouldn't she be? Between writing her intelligent novels on Lebanese law and saving human rights activists from extradition she happened to make millions of dollars. Bless you, Amal. You keep us on our toes.
Do you think Amal deserved the most interesting person of the year? Tweet at us! @sofeminineUK!
This article was written by Dagney Pruner. Follow her on Twitter @dagneyp
You might also like:

WATCH: Take A First Look At George Clooney In Downton Abbey

Here Is What Angelina Jolie Had To Say About Learning To Be A Good Wife

15 Celebrities Who Have Tricked You Into Thinking They're American