They stay out of the limelight
Their secret wedding was just a testimonial to how they want to live their lives. Despite the world being utterly obsessed with them (ahem, Sofeminine included), they still manage to retain their privacy, and we completely respect them for it.
They are fascinating
Before becoming an actor, Angelina Jolie wanted to be a funeral director. She used to experiment with knife play and she regularly went moshing. She was 14 at the time. Brad, on the other hand, participated in school debates and wanted to go into advertising. However, according to Esquire "an itch" made him leave his home town of Missouri and pursue acting.

You've got to admit you'd pay attention to their childhood anecdotes…
They are both incredibly intelligent
Did you know that Brad Pitt is a film producer as well as an actor? Did you know Angelina was a director, screenwriter and author? They might be the biggest celebrity couple in the world, but Kim and Kanye they AIN'T.
They're insanely charitable
Rather than spend all their money purchasing heart shaped islands and diamond encrusted nail varnish, Brangelina are passionate about humanitarian work, and have their own charitable organisation named the Jolie-Pitt foundation, which is aimed to aid humanitarian causes.
They care about politics
Pitt strongly supported Barrack Obama's 2012 election and Angelina has compaigned about child refugees and sexual violence in military conflict zones for years and has received a huge amount of recognition for her work, as well as being a film star on the side. Incredible.
They're huge supporters of same sex marriage
It even contributed to their marriage after all this time. Pitt told Esquire: "Angie and I will consider tying the knot when everyone else in the country who wants to be married is legally able." Well, they jumped the gun there, but since that interview was in 2006 we'll just have to let them off the hook!
Did we mention they're adorable?
We all know the sticky start of Brad and Ange after he and Jennifer Aniston split when the couple met on the set of Mrs and Mrs Smith, sparking an outpour of #TeamJen supporters. But every side has two stories, and just listen to Angelina's account…

"I think we were the last two people who were looking for a relationship. I certainly wasn't…Brad was a huge surprise to me…anything we had to do with each other, we just found a lot of joy in it together and a lot of real teamwork. We just became kind of a pair."

You can't help who you fall in love with people! Especially when they are ethereally beautiful!
Then of course, there are their kids. Arguably the cutest tiny people we've ever seen…
Maddox, Zahara, Pax, Shiloh, Knox and Vivienne are the CUTEST brood of kids. Unlike other celeb kids, they've been kept relatively out of the spotlight as well. We love this pair's parenting skills!
They are both so stunning
You can't even compete. You can only give up and watch them in amazement.
They've supported each other through thick and thin
Brad supported Ange back in 2013 when she made the decision to have a double mastectomy, telling reporters at his World War Z premiere: "The fact that she would not be frightened of this, what she would have to go through to do this, to take this spectre away from our family, I get very emotional about it. It means the world to me."

Ange said of Brad during the time: "He's been extraordinary…he's such a wonderful man and a wonderful father."
Oh those two. Want to wish the pair congratulations? Tweet us @sofeminineUK!

This article was written by Emmy Griffiths. Follow her @emmyfg!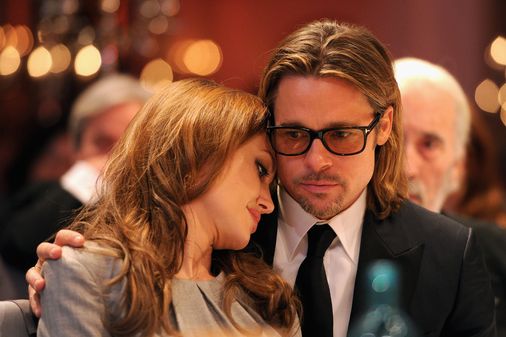 © Getty
Angelina Jolie et Brad Pitt
Enjoyed this article? Check these out!
Celebrity Couples Who Have Appeared On-Screen Together

Famous Couples: The Most Shocking Splits Of All Time

13 Whirlwind Celebrity Marriages That Happened Way Too Quickly