Harry Styles and Taylor Swift recreate the iconic Dirty Dancing lift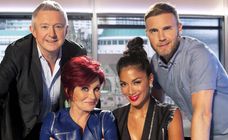 Harry Styles and Taylor Swift are the embodiment of young love.

Over the past few weeks the inseparable pair have been spotted smooching, holding hands and enjoying sleepovers.

The teen superstars seem to be attached at the hip and the One Direction heartthrob even separated from his fellow bandmates to fly on Taylor's private jet to London at the weekend.

But now they've taken their puppy love to even further extremes and were seen recreating one of the most iconic romantic film scenes of all time - the famous Patrick Swayze and Jennifer Grey lift from Dirty Dancing.

Following One Direction's gig at Madison Square Garden, someone took a sneaky snap showing the couple performing the famed dance move with the caption: "Harry Styles gives Taylor Swift a 'lift' at the One Direction MSG After Party!!"

Harry Styles Taylor Swift lift
A source revealed to The Sun: "It was brilliant. The song came on and they just started dancing together.
"They didn't know it from start to finish, but towards the end they had a little chat, then she took a run and jumped in to his arms. Everyone was laughing and egging them on."
Since hooking up the pair - dubbed "Haylor" by fans - have spent consecutive nights together in New York and are now said to be holed up in a romantic cottage on the outskirts of Manchester.
An insider told The Sun: "They've been there since Sunday.
"Taylor's management and security are in a nearby hotel with instructions that she will call them when she's ready to leave."
Harry - who has a reputation for loving the older ladies after being linked to DJ Lucy Horobin, 32, and Caroline Flack, 33 - seems to be enjoying dating someone closer in age.
Last week, the smitten 1D singer gushed about his new 22-year-old girlfriend: "She honestly couldn't be a sweeter person.
"She's genuinely nice."