One Direction singer Harry Styles has declared himself a huge fan of Rolling Stones front man Mick Jagger.

The teen hunk has expressed hope in having a long-lasting career like Mick.

In an effort to keep going like the 70-year-old, Harry is planning on kick-starting a fitness regime like his idol.

He has been discussing plans with Torje Eike, Mick's personal trainer, when the two met at the Stones concert in Washington last month.

A source for The Sun said: "Harry wants a career spanning decades like Mick's and to have that he recognises that fitness, health and developing his body is the key.

"He spoke to Torje about Jagger's intense routine of kick-boxing, running, weights and, most importantly, ballet.

"That's the Achilles' heel in Harry's training. He can't dance and neither can any of the 1D boys — their choreographer recognised early on that they shouldn't dance on stage."

The boys have always been very clear about the fact that they are not a boy band who dance - Zayn memorably refused to do so while the lads were still trying to win the X-Factor.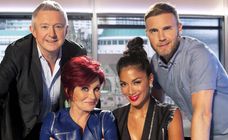 The group has thrown themselves into a strict fitness regime - we've all seen their super toned bods - when did Liam Payne get so buff?

They've been working with personal trainer Mark Jarvis, doing cardio and weights.

Mark's boss Ramzy Khachik thinks the ballet moves would be good for the boys - "Nobody works harder than ballet dancers.

"It's all about grace, stance and strength.

"Harry sees how supple Mick is, how he manages to stretch his body and do contortions.

"It's a brilliant art form and will get more grace into his movements — if you're graceful you can get away with minimalistic moves, which is what their choreography is about."

As much as we applaud Hazza for trying, we're not sure anyone could get away with pulling moves like Jagger.

What do you think? Should Harry have more of a stage presence? Tweet us @sofeminineUK

© Getty
Harry Styles