Harry Styles and Taylor Swift shared dinner together following the VMA Awards a couple of weeks ago.

And apparently they were talking about more than just the menu.

The 19-year-old singer reportedly poured his heart out to his ex and even admitted that he was a fool to let her go.

Insiders have claimed that Harry was quick to take advantage of being in the same place as the blonde and made a bee-line for her.

He apparently went straight over to her to apologise for the way they split.

Add that to her snide comment about him inspiring her winning track I Knew You Were Trouble and we're starting to think Hazza may not have covered himself in glory during their break-up.

A source told Look magazine: "Taylor and Harry had a heart to heart. He's very funny, so can make her defences come down easily.

"He told her she was the most stunning girl at the awards and that he was mad to let her go."

So what does this mean for the future of Harry and Taylor?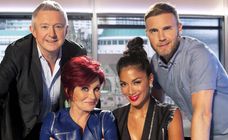 The two of them have apparently planned to meet up again when they are in the same place.

The source added: "They're planning another dinner when they're in the same city.

"Taylor's happy to be back in touch with him, as they have a lot of laughs together but she was hurt and she's cautious of going there again."

Taylor was thought to be dating TV actor Matthew Gray Gubler, but it seems she may still have a weakness for Mr Styles...

Who doesn't?!

Harry has recently hinted that he's got his eye on someone and has also explained how hard it is to date people when you have so little time to get to know them.

Dating someone you've dated before certainly cuts out that problem.

He told Fabulous magazine: "I haven't been mingling that much… Touring is so hard and it's hard to get to know someone in a day.

"You don't get enough time to meet someone and say: 'I really like you. Do you want to come on the road for a bit?' We're rarely anywhere for even two days at the moment. There is… I've got someone that I like, yeah."
Would you like to see Harry and Taylor back together? Tweet us @sofeminineUK​

© Getty
Taylor Swift and Selena Gomez at the VMAs