The Made in Chelsea boys Alex Mytton, Andy Jordan, Oliver Proudlock and Spencer Matthews have taken on the Men's Health six-pack challenge and are now proudly exhibiting their very, very sculpted abs. So very sculpted…

The reality TV stars were tasked with getting into the shape of Calvin Klein-esque models in just four weeks, and they didn't do badly at all! We assume Jamie wasn't asked or couldn't hack it – being the heir to McVities must be a challenge in itself!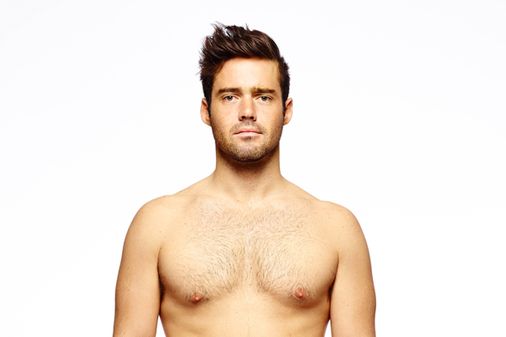 © Glen Burrows/courtesy of Men's Health
Spencer Matthews
Oliver Proudlock wins our vote for best washboard abs, as he has gone from a little skinny fella to lean and toned – and he is looking good!

He said: "I wanted abs, not bulk." The men's magazine agreed, admitted that he succeeded to sculpt "one of the best six-packs Men's Health has seen."

You should be proud, Proudlock.

As for the others, Spencer was smug about his transformation as apparently he got rid of half of his body fat, saying: "I just want to look like an underwear model. If I want something, I go for it."

It's a shame he couldn't lose any weight off his enormously big head!

We've always liked a bit of Andy Jordan, being the nice guy of the MIC clan, so coupled with a rocking bod, he may have just become our dream man!

He said: "I've always been active, just not that big or strong." It looks like through weight-training with boxing and mixed martial arts, times are a-changing!

Finally, Binky must be giddy as her boyfriend Andy showed off his great new form after sticking to the fitness and diet regime. Although the boys weren't meant to drink booze, Alex couldn't keep that one up.

He said: "Abstaining didn't work. I stuck to straight liquor. It gives you better results than guzzling beer."

Apparently so Alex!

Fancy seeing how they did it? The before and after photos of the Celebrity Six-Pack Made in Chelsea challengers in the January/February issue of Men's Health is on sale Wednesday 4th December. Also available as a digital edition.
​For the behind the scenes video from the exclusive Men's Health shoot go to www.menshealth.co.uk/remadeinchelsea

Which boy do you think looks the best? Tweet us @sofeminineUK