Holly Willoughby is unrecognisable at Jonathan Ross' Halloween party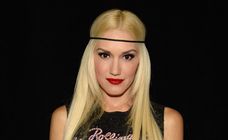 Smiley Holly Willoughby is the nation's sweetheart on This Morning with her cute little tea dresses and inoffensive manner.

But last night at Jonathan Ross' annual Halloween bash, the 31-year-old couldn't have looked further from her normally gorgeous and flawless self.

Hiding her trademark blonde locks underneath a black wig, Holly popped in some scary red contact lenses and applied incredible face make-up worthy of a Hollywood movie.

The Celebrity Juice panellist looked terrifying - it seemed as if her face had been unzipped revealing red raw skin and a half-destroyed nose underneath.

Holly Willoughby is unrecognisable at Jonathan Ross' Halloween party
Also at the bash was Kate Moss and her rocker husband Jamie Hince, who had dressed as Morticia and Gomez Addams from The Addams Family.
Kate wore a long black wig and expensive black sequin gown worthy of her status as a fashion icon, while Jamie chose a long double-breasted oxblood jacket with black velvet trim.
No Doubt singer Gwen Stefani managed a more original costume, turning up to the bash with her bandmates as a zombie Sandy from Grease.
She was the spitting image of Olivia Newton-John with her blonde curls, Pink Ladies' jacket and tight black shiny trousers...except there was blood running down one side of her carefully made-up face.
Jonathan Ross certainly knows how to throw a party and the raucous star-studded bash was full of celebs in scary get-up.
The most imaginative outfits of the night came courtesy of comedians, with Peep Show actor David Mitchell arriving as an Elizabethan court jester, Stephen Fry was a hanged highway man, and Fresh Meat star Jack Whitehall donned a giant cockroach costume.
8 Out Of 10 Cats host Jimmy Carr looked positively terrifying as a ventriloquist dummy, and in his arms he carried a smaller, uncannily similar version of himself.
This year Jonathan Ross went all out with impressive Halloween decorations and terrifying performers for his showbiz bash, transforming his Hampstead house into a haunted castle with a scary dungeon.
Although the chat show host had made a big effort for the party, at the actual event his outfit was one of the more disappointing of the night as he wore a stereotypical Count Dracula costume.
Next time perhaps the TV presenter could get some outfit ideas from his friends!