Harry Styles is said to be dating Sophie Moss, a socialite and model who works at notoriously kinky London nightclub The Box.

We all know 19-year-old Harry has a thing for the older lady, and this one's no different - she's nine years older than him.

The 28-year-old leggy blonde - who's said to be a true party girl - has apparently been met with approval by the rest of the One Direction lads.

A friend told Now magazine: "Harry and Sophie have met up.

"It's not that serious, but he's smitten. The rest of the band know her and approve."

But the 1D heartthrob isn't the first Harry to show an interest in the "posh totty".

Prince Harry also apparently took a shine to Sophie back in the day, after apparently meeting her through his now ex-girlfriend Chelsy Davy.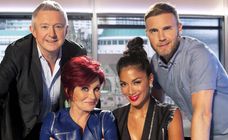 The source explained: "Sophie became friends with Chelsy at Leeds University and soon caught the eye of the Prince.

"During one of his 'off' periods with Chelsy, Harry made a play for Sophie and openly talked about how much he fancied her."
​What will happen with Sophie and her new toyboy is all up in the air at the moment.

They were both invited to Cara Delevingne's massive birthday bash in Ibiza later this month - but since Cara's gone on a self-enforced detox the party has been cancelled.

Sophie - who was introduced to Harry through Cara - will no doubt be gutted the bash is off.

The insider added: "Sophie's a true party girl and is always the last to leave, regularly dancing on tables and dressing up in risqué outfits."

Harry's reps have denied the pair are dating or seeing each other, but then again do we really believe he's slept with two people in his whole life?

What goes on behind closed doors…

© Getty
Harry Styles