Jennifer Aniston held a Christmas party this weekend at her beautiful Bel Air mansion and invite was strictly Hollywood A-list only.

Jen's BFFs comedienne Chelsea Handler and former Friends' co-star Courteney Cox were the first ones to arrive, with the Cougar Town star seen pulling in with a mystery man in tow.

Robert Downey Jr. and his wife Susan Downey had a night off from looking after their one-year-old son Exton, and Tobey Maguire and his wife Jennifer Meyer also left their two children at home so they could come to the party.

Arrested Development star Will Arnett, Jen's We're The Millers co-star Kathryn Hahan and Ethan Sandler were also spotted entering the showbiz bash.

Despite the fact that they are both ex-lovers of Brad Pitt, there's clearly no bad feeling between Jen and Gwyneth Paltrow, as the Iron Man actress showed up to her festive shindig, along with Coldplay frontman Chris Martin.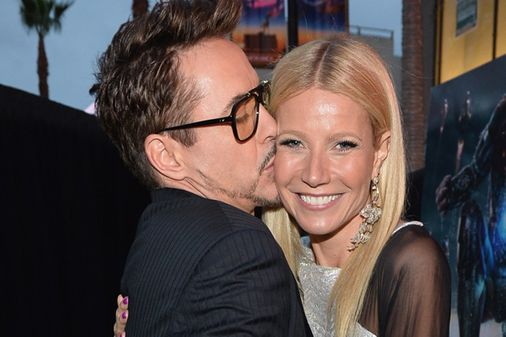 © Getty
Robert Downey Jr and Gwyneth Paltrow
Gwynnie had dated Brad from 1994 to 1997, and soon after they split the Fury actor met Jen and the pair married two years later in 2000.

Of course Brad didn't attend the star-studded do put on by his ex-wife - as that would have been REALLY awkward - but he had an excuse as he was on the other side of the world with Angelina Jolie and their brood of six children, enjoying the Australian sunshine on a yacht in Sydney Harbour.

On Friday Jen and her fiancé Justin Theroux were photographed picking out a Christmas tree together – reportedly a giant 10ft tree – just in time for the Christmas bash.

An eyewitness revealed to People.com: "Jen picks her own Christmas tree every year. It's a tradition for her. She's very specific about the tree that she wants."

"Jen was in a great mood and took her time to pick out the perfect tree," said the insider. "Justin helped her and she found a beautiful one."

Despite there being rumours that all is not well between the engaged pair, Jen and Justin were said to have looked pretty loved-up as they picked their tree together.

The eyewitness continued: "Jen and Justin looked very happy together. She wore her engagement ring and looked amazing."
​
Speaking about Jen's annual Christmas party, a source close to the actress revealed: "Jen always has her personal chefs prepare great food for guests, and this is by far her favourite party to host. She always puts in a lot of planning."

Next year Jen – don't leave us off the list!

What do you think these star-studded parties are like? Would you want to go? Tweet us @sofeminineUK.