If you mess with Justin Bieber, then you'll have his fiercely devoted fans to answer to – something which a luxury hotel in Buenos Aires learnt the hard way.

The 19-year-old was staying at the Faena hotel, which had hired extra security and erected temporary security walls around the outside of the hotel to form a barrier keeping his fans at bay.

But they clearly weren't expecting Justin's fans to turn up in such large numbers and hundreds of enthusiastic, screaming teens over ran the place.

Upset at the disruption, the hotel allegedly threw Bieber and his entourage out, after all the other guests were disturbed by the noise from his fans.

But this invoked the wrath of those waiting outside for their idol, who then ran riot in the grounds of the hotel.

Reports claim that the fervent fans climbed over high security barriers and some even sprayed the walls of the expensive resort in graffiti.

Photos have now emerged of the rowdy behaviour of the fans, which overwhelmed staff and security as huge numbers of devotees descended on the hotel.
Following on from Justin's spray painting escapades in Brazil, the teens outside the hotel decided to copy their idol by creating their own illegal pieces of art on the walls the Faena.

After seeing his fans run riot, Bieber – who last night won Best Male at the MTV EMAs – took to Twitter to issue a plea for them to calm down.

He wrote: "to all my fans at the hotel. thank u. i love u. but please calm down and respect the police. we dont want anyone getting hurt." (sic)

Perhaps Justin was trying to do some damage control, as TMZ allege that the surrounding hotels were refusing to take in Justin and his 25 strong entourage because of all the madness.

The next stop on his Believe world tour is set to be Chile, and according to a Twitter user over 250 girls had been camping outside the venue since Friday.

Hopefully there won't be a riot this time!

Do you think Justin's fans need to calm down? Tweet us @SofeminineUK.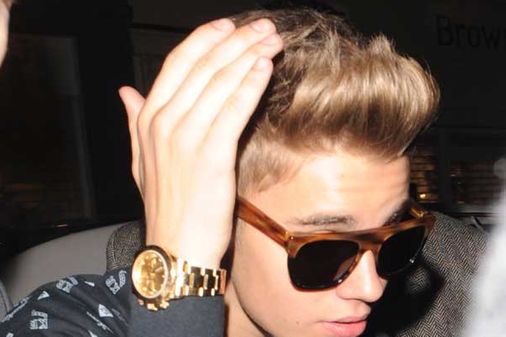 © Getty
Justin Bieber