If you weren't already planning on watching the 56th Annual GRAMMY Awards telecast, set your DVR now. A new list of additional performers has been announced for this year's biggest night in music.

The lineup already boasted new musical talents like Kendrick Lamar and Imagine Dragons; hit singers like Pink and Voice judge Blake Shelton; and legends like Willie Nelson.

Now a whole pack of GRAMMY nominees will storm the stage to perform their latest hits. Katy Perry is scheduled to perform, though we hope there won't be a repeat of her Japanese Geisha-inspired AMAs performance of "Unconditionally."
Newcomer Lorde is also slated to perform and has been nominated for three awards for her catchy song "Royals", and Best Pop Vocal Album for Pure Heroine. No word yet on whether Lorde's new friend and fellow nominee Taylor Swift will perform, though we are all hoping to see the Red singer take the stage.

Pink is up to perform her heart-wrenching, GRAMMY-nominated ballad "Just Give Me a Reason" with Fun. lead singer, Nate Ruess.
Musical legends like Metallica and Chicago are also performing. It'll be Chicago's first time performing at the GRAMMYs but their album The Chicago Transit Authority was inducted into the GRAMMY Hall of Fame this year. Metallica has won eight previous GRAMMY awards, and they will be performing with GRAMMY Cultural Ambassador to China, Lang Lang.

Three-time GRAMMY winner Pharrell Williams will also be performing and is up for seven different awards, including two nominations for Record of the Year, two for Best Pop Duo/Group Performance, two for Album of the Year, and one for Producer of the Year. Seems this GRAMMY alum is taking the awards show by storm!
Not only are the GRAMMYs planning some stunning solo showstoppers, but several acts will be combining for some fun, off-the-wall collaborations. The outstanding, 25-time GRAMMY winner Stevie Wonder will be joining in the performance by nominees Daft Punk. Robin Thicke, nominated for his catchy yet sexist hit "Blurred Lines," will be teaming up with Chicago.

LL Cool J, two-time GRAMMY winner and actor in the hit show NCIS: Los Angeles, is returning to host this year's show.

Which performance are you most excited to see? Tweet us @wewomenUSA.
Check out these GRAMMY stars!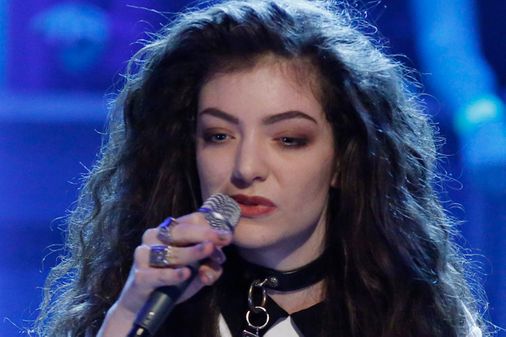 © Getty
Lorde