Kim Kardashian, 33, has been under intense scrutiny over the last few weeks regarding her saucy appearance in Kanye's new music video Bound 2.
In the video, Kim is seen nuzzling up to Kanye while he raps about threesomes and casual sex. Although reports claimed that the Kardashian family matriarch was distraught by Kim's topless role in the music video, Kris claims she doesn't believe it destroyed Kim's credibility and is anything but disappointed by it.
In response to a story in British magazine, Heat which claimed she was furious with her daughter's decision to go topless in Kanye West's new music video, she told the MailOnline: "I am extremely proud of my daughter Kim, and also very proud of her fiancé, Kanye West. He is extremely talented and incredibly artistic.
"It's a complete fabrication and not true. None of those statements are [true] and are completely made up."
We're not all that surprised that Kim's momma isn't that upset by the highly criticised video. In a Harper's Bazaar interview Kim admitted that it was actually her mum's idea to strip down for Playboy!
Kim recalls her mum saying: "Go for it. They might never ask you to do it again. Our show isn't on the air yet. No one knows who you are."
It may not be the last time we see the Keeping Up With The Kardashians star bare it all either. In a recent episode of KUWTK Kim explains that she's willing to do Playboy again to show off her post-baby body.
The new mum is not getting it easy these days since confirming her engagement to (arguably) one of the most shunned artists in the music industry, Kanye West.
Kim got into a parenting argument on Twitter when she tweeted about taking baby Nori swimming for the first time.
She wrote: "We took our baby girl swimming today for the 1st time, she loved it so much! #BestDayEver"
Critics were quick to comment back saying "probably cos she actually got to see her parents for a change!"
She lashed back: "u sound so ignorant. Bc [because] I don't tweet or Instagram my every move w [with] my daughter means I am not with her 247 [all the time]? We share what we want. Or is it bc [because] I go support my fiancé at every show & I post pix? When the baby goes down 4 bed or a nap, parents are allowed 2 work & support each other, maybe even have fun too."
Do you think people should just give Kimmy a break now?

What do you think of her new body image? Tweet us @sofeminineUK
Check out this hilarious parody starring James Franco and Seth Rogen.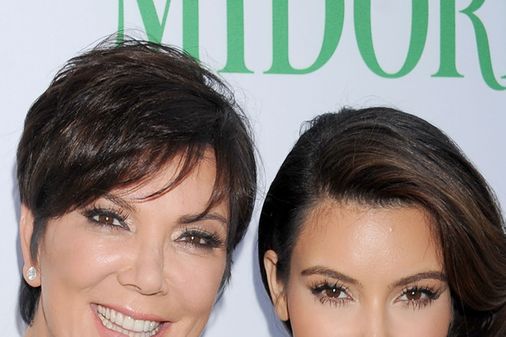 © Getty Images
Kim Kardashian and Kris Jenner