Black is always considered to be chic, but it's not the most glamorous of colours when it comes to eyes – which Made In Chelsea star Louise Thompson has now found out.

The pocket-sized MIC star has reportedly given herself a pretty nasty black eye while drunk on a night out after "sh*t got out of hand."

Louise decided to try and get sympathy from her good pal Alexandra 'Binky' Felsted, while also broadcasting the news to her 451,000 followers on Twitter.

The 23-year-old tweeted Binky a photo of someone collapsing face down on their bed with the caption: "How I feel."

She then followed it up on Thursday with: "Binky I'm dying. And I have a black eye. Sh*t got out of hand."

To which Binky simply replied: "WHAT!!!"

Louise deleted the tweets from her own timeline and made no more reference to the drunken incident, but her tweets still show up on her BFF's feed.

The former love interest of Spencer Matthews finally debuted her painful bruised eye on Instagram on Sunday, uploading a close up of her make-up free right eye, with the caption: "Sunglasses today perhaps."

Some of her followers tried to offer the reality star some advice, with one jokily commenting: "Just wear purple smokey eyeshadow on the other eye and people will never know."

Reality TV star
born 01/01/1900
While she hasn't explained exactly how she sustained the injury, the reality TV star seems to have gotten a bit of a wake up call after the accident, cancelling on an event the next night, tweeting: "No more going out on school nights."

Sadly it looks like Binky didn't take the same advice, as she revealed that she felt pretty fragile after her own heavy midweek drinking sessions.

The same day that Louise woke up to a purple eye, Binky tweeted: "Hate boys on a hangover."

She didn't go into any further details, but MIC viewers will perhaps be wondering if the 23-year-old has had a falling out with her current beau Alex Mytton, who used to date Phoebe Lettice-Thompson and had a brief flirtation with her best friend Lucy Watson.

We'll just have to wait and see if the rumours of a mass MIC fall-out are true tonight's episode of Made in Chelsea at 10pm on E4.

Have you ever had a night out-related injury like Louise? Tweet us @SofeminineUK.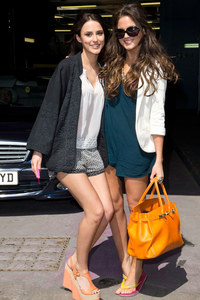 © Getty