MIC fans outraged by Spencer and Louise's steamy shower scene
Last night's episode of Made In Chelsea began with a bang, as Louise Thompson and Spencer Matthews were shown getting intimate in the shower.

Although their steamy scrubbing session was intended to add a bit of excitement to the reality show, it had the opposite effect and scores of shocked fans took to Twitter and Facebook to complain.

The show faced backlash as many complained that Made In Chelsea had plumbed to new depths by including the 30 seconds sex scene.

One E4 viewer tweeted: "Seeing @SpencerGeorgeM and @LouiseAThompson in the shower reminded me of an Attenborough hippo vs human attack scene. #madeinchelsea."

Another wrote: "Erghhh sick just had my dinner and then see @SpencerGeorgeM and @LouiseAThompson in the shower, leave some things private! #allshow."

The show trended on Twitter as many vented their disgust at the scandalous opening and they continued to do so throughout the entire length of the show.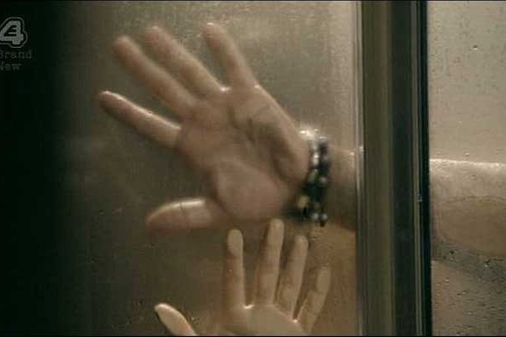 Shower
Louise and Spencer subsequently emerged wearing towels, and Louise didn't waste much time in leaving Spencer as she had plans to meet his love rival Andy Jordan for coffee.
The news obviously didn't please the 24-year-old broker, who told his girlfriend: "I do find it slightly weird that he just keeps turning up, but if you want to have coffee with him, have coffee with him.
"If Andy says anything weird let me know and if I need to have another word with him let me know."
Following on from Louise and Andy's cosy rendezvous at a bookshop, Spencer strangely organised a boys' night out and invited Andy along too.
But it was an obvious recipe for disaster as the boys' rivalry came to a head after one too many shots.
Andy joked that he would love to see Louise when she was drunk, forcing Spencer to take him to one side and ask: "What's the Louise deal? Do you or do you not have feelings for my girlfriend? Just back the f*ck off my girlfriend."
The MIC newbie admitted that he did have feelings for the university student and Spencer shot back: "I'm finding it hard not to slap you right now."
Although he's friends with both lads, businessman Jamie Laing weighed in on the argument and told Andy he needed to sort himself out and stop trying to mess up Spencer and Louise's relationship.
The Candy Kittens owner shouted at Andy: "Stop being a little prick and move away from her. Stop taking his girlfriend on dates.
"You're on the f*****g verge. I've literally held back but I'm not going to anymore."
The boys all left before things got physical, but it's clear the drama between Spencer, Louise and Andy is far from over.