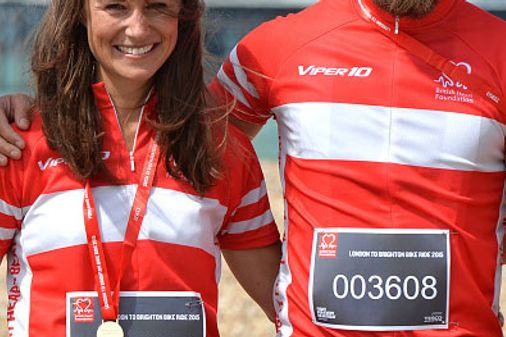 © Getty
Pippa Middleton and James Middleton
I'm sure we don't have to remind you how amazing Pippa Middleton looked at her sissy Kate Middleton's royal wedding to Prince William in 2011. Remember THAT gorgeous dress where she gave us major booty envy? Thought so. Well after playing her part as the most famous maid of honour in history, now it's her turn to get choosing the bridesmaids as her boyfriend James Matthews has proposed. Eek!
The cute couple have only been dating less than a year but are clearly smitten with one another. James got down on one knee to pop the question during a romantic getaway to the Lake District. Apparently it was a complete shock for P Middy but she's super excited all the same.
If you think James' surname rings a bell, then you would be right, his brother is none other than Made In Chelsea ladies man Spencer Matthews. But unlike his reality star bro, James is actually much more private, preferring to shun the limelight and focus on his successful, totally non-showbizzy role as hedge fund manager instead.
Sharing a love for being active; as well as their charity bike rides, P Middy and her new fiancee have also previously been snapped on a skiing holiday together, so no doubt they'll be enjoying lots more sporting ventures together after tying the knot too. Could there be a snowy themed reception on the cards?
With the ceremony rumoured to be taking place next year, we're already excited to see the dress. We'll be keeping our letterboxes firmly open guys, y'know, just so we don't miss the wedding invitation.
What do you think of this happy news? Let us know your thoughts @SofeminineUK!
You Might Also Like:
50 Stunning Celebrity Wedding Dress Ideas You Need To Steal For Your Big Day
This Couple's Engagement Photos Have A Brilliantly Dark Twist
This Woman Is Using A Tooth In Her Engagement Ring Because Hey, Diamonds Are Overrated