Robbie Williams on being weird, fat and obsessed with UFOs
Robbie Williams has admitted that before his most recent comeback his life was taken over with his UFO obsession.

The Take That star has said that his fascination with aliens escalated after he took a break from his relentless work schedule, but it ended up making him "weird" and "fat".

The 38-year-old has just launched his new clothing line Farrell after deciding to swap extra-terrestrials for fashion.

Robbie explained to The Sun: "Ever since I was 16 all I have been doing is make album, promote album, tour album... and I did that for 20 years.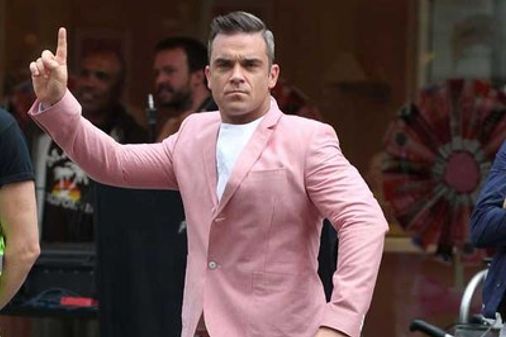 Robbie Williams on being weird, fat and obsessed with UFOs
"Then I got a bit burnt out and I was looking for something else. I thought that something else was making documentaries about UFOs.
"But that wasn't going to work out for me. It just made me weird and — at the time — fat. Weird and fat, looking at UFOs.
"So I thought I would reverse out of this situation, which was a PR nightmare, and my management put the idea of a clothing line to me."
Since dropping his obsession with ET, the Angels singer, 38, has been looking trimmer than ever.
He also stars in the ad campaign for his new menswear fashion range and is so proud of his new buff figure that he recently tweeted a topless photo showing the fruits of his hard work in the gym.
Robbie will soon become a DILF as his wife Ayda Field is due to give birth to his first child in the coming weeks.
We're glad to see that Rob has returned to his former hot glory!