Could Robin Thicke be in trouble again? The Blurred Lines facing a lawsuit by the late singer Marvin Gaye's two children, who claim Thicke, Pharrell Williams and fellow producer Clifford Harris Jr.'s summer smash hit ripped off their father's song "Got to Give It Up."

They also allege that Thicke's "Love After War," wrongfully borrowed from Gaye's "After the Dance."

In their suit, siblings Frankie and Nona Gaye state that the defendants are guilty of the "blatant copying of a constellation of distinctive and significant compositional elements of Marvin Gaye's classic No. 1 song," according to documents obtained by The Hollywood Reporter.
Listen to Marvin Gaye's song 'Got to Give It Up':
The lawsuit alleges music company EMI failed to protect Gaye's legacy, claiming that EMI should have pursued a copyright infringement claim and that the company's executives used intimidation to try to prevent the Gaye family from filing a lawsuit.

The Gaye family's lawsuit claims that Thicke admitted that he stole music from the singer, citing quotes from a GQ interview in which Thicke said "Got to Give It Up" was one of his favorite songs and told Williams, "Damn, we should make something like that, something with that groove."
According to Fox News​, Robin has denied copying Gaye's song for "Blurred Lines," which has sold more than 6 million copies so far.

Pharrell also denied the claims, saying: "If you read music, all you have to do is read the sheet music. It's completely different."
Sony-ATV, which owns EMI, said it takes protecting its songwriters' works from infringement "very seriously."

They publicly stated: "While we have not yet seen the claims by the Gaye family against EMI, we have repeatedly advised the Gaye family's attorney that the two songs in question have been evaluated by a leading musicologist who concluded that 'Blurred Lines' does not infringe 'Got to Give It Up.'"
Meanwhile it gets even messier because Robin and his colleagues have countersued asking for a federal judge to rule that the singers did not steal from "Got to Give It Up."

Do you think there's a similarity between the two songs? Or is the Gaye family wrong for suing Robin Thicke? Tweet us @SofeminineUK!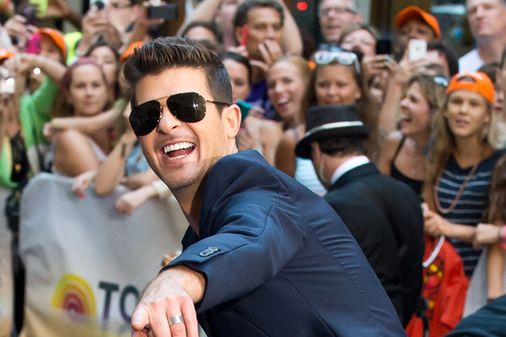 © Getty
Robin Thicke