With a Facebook folder titled 'That time when we finally took a vacation', Taylor has done exactly what every annoying holidaymaker on your newsfeed does; made us all feel really jealous as she bronzed up on a beach with her boyfriend while you're stuck at the office, already bored of Wednesday and dreading taking a look at your bank account.
After recently celebrating their one-year anniversary, the pair finally took a break and spent some well needed time together. Although many snaps are of the pair kissing, Taylor posing, their initials together on the sand and every other typically cute yet cliched snap that couples on holiday HAVE to do as law to prove they are cute, there is also an AMAZING video on Taylor face planting into the ocean from a water trampoline before popping up to say "it hurt a lot!" as Calvin chuckles behind the camera.
Calvin also shared a picture of the two of them on the beach before setting off on jet skis together, and we can't help but wonder where these two even are?! Private beach complete with water trampoline and jet skis seems almost too good to be true! We have to ask though, someone is taking these pictures so they can't be totally alone - anyone willing to bet Ed Sheeran's third wheeling it?
Check out their amazing holiday snaps: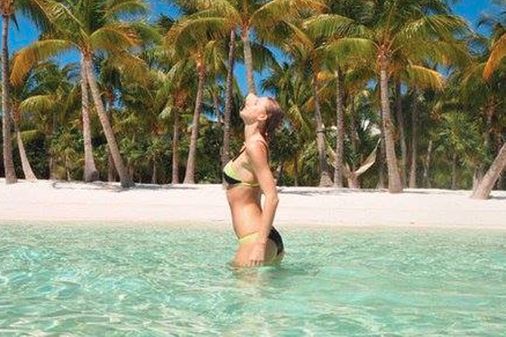 Do you love Tay and Cal? Tweet us @sofeminineUK!
You might like...

Taylor Swift And Calvin Harris Just Celebrated Their First Year Anniversary In The Cutest Way

The #FreeKesha Argument: Was Demi Lovato Out Of Line For Throwing Shade At Taylor Swift?

QUIZ: Which Taylor Swift Relationship Are You?