Domestic violence is a serious problem that perhaps doesn't get all the media attention it deserves. When Rihanna was beaten up by her then-boyfriend Chris Brown, the world stood up in outrage. And rightly so! But what about the hundreds and thousands of women who face violence in the home every day?
Italian artist AleXsandro Palombo has created a shocking and provocative new art series, titled "What Kind of Man Are You?", to highlight the issues of domestic violence, especially the kind of violence than happens within seemingly perfect and happy couples. "I wanted to give visibility to a problem that affects a great number of people in the world," he told the Express.
AleXsandro is not afraid to push the envelope with his artwork. In a recent project, he challenged conventional notions of beauty by picturing Disney princesses with varying disabilities. The artist himself was partially paralyzed two years ago after undergoing surgery to remove cancer.
In his most recent work, AleXsandro takes some of the most popular animated characters and uses their seemingly perfect, fairytale romances to shock audiences about domestic violence. Instead of living happily ever after, Prince Charming beats Cinderella black and bloody with a rock. Instead of laughing away with each other, Homer Simpson grabs his wife Marge by the throat and punches her.
Even in what appears to be a loving relationship, violence can still happen and be hidden behind closed doors. Don't let appearances deceive you. Know the signs of an abusive relationship and speak out.
To report domestic violence or to seek help, call the National Domestic Violence Helpline on 0808 2000 247 or visit Refuge.
Is this art project too shocking or just the wake up call people need about domestic violence? Tweet us @sofeminineUK
Check out the whole project, "What Kind of Man Are You?"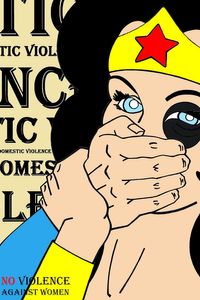 © AleXsandro Palombo