From free online erotic fiction websites, to stimulating sexy novels, even porn films (when they don't feature pneumatic, surgically-enhanced women screaming like they're on a rollercoaster) – there are plenty of ways to enhance your sex life.
Check out our pick of the very best erotic books, websites and female-friendly porn movies to help you explore your wildest fantasies.

Online films
The focus of X-Art.com is "beautiful erotica" and they offer stunning sexually explicit erotic videos and photography. Their images and films are appealing because they only feature naturally gorgeous participants – people who you'd actually want to sleep with (if the option was there, of course). Another similarly great site with good-looking people getting it on is Joymii.com.
For those looking to indulge their taste for BDSM, Kink.com has a bunch of different resources to scratch that itch. In fact they pretty much have something for everyone, with eighteen premium subscription sites, one on-demand channel and a free-behind the scenes documentary site. We especially love their mission statement, which "is to create the most authentic BDSM experiences that foster community and empower people to explore their sexuality."
If you fancy something a little bit different, check out Beautifulagony.com. Unusually they only feature the faces of the participants, not the actual act of having sex or masturbating. There's something undeniably titillating about watching men and women's faces as they orgasm.
Online Images
Photography fans also have some pretty good options on the World Wide Web. There's the brilliant Tumblr Dicksforgirls, which is a collection of pictures of the hottest guys, both clothed and unclothed (definitely not suitable for work!), which also features a large number of celebrity images, for those who like to fantasise about stars such as Ryan Gosling (sadly those pics aren't naked ones though).
There's another Tumblr, Porn4ladies, which is another blog full of visual masturbation material for ladies, featuring people of both sexes in various arousing situations/positions.
Erotic fiction
Erotic fiction can come in many forms including short steamy stories and erotic novels. If you're looking for a longer read, we've rounded up our top ten erotic novels which are guaranteed to turn you on - in our view they're the best adult romance books on the market.
For those that fancy some online sexy stories, there's Cliterati.co.uk which is full of tales to make you blush! What's more they even have a counsel element so you can discuss any sex related ideas or issues with other like minded people and sexperts. TheEroticWoman.com caters for a variety of tastes, with categories including lesbian, group and kinky sex stories, as well as poetry, essays and articles.
Literotica.com has a huge selection of adult fantasies, and you can even submit your own if you fancy. They update the site everyday and have regular poetry and story contests.
VivaFem.com is a site which specialises in all forms of "Erotainment", but our favourite thing about their site is their extensive erotic stories section.
Erotic Films
Sometimes porn can feel like a brutal and charmless rendering of human sexuality, but sex on screen doesn't have to be this way! There's plenty of excellent movies with steamy scenes, in fact we've compiled a list of our utter fave top ten erotic films.
Check out these erotic positions for sex inspiration: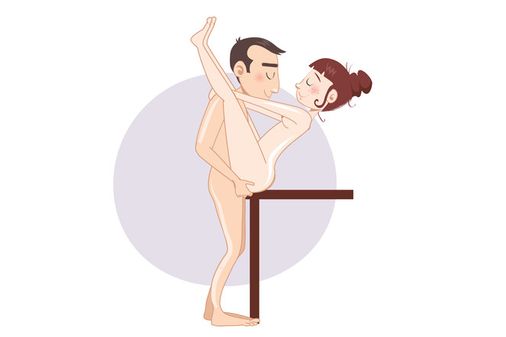 100 sex positions | Kamasutra sex positions