Creating a wedding ideas scrapbook
Oh my god, how did it get to 1 month, 22 days to go!! Time really starts to run away with you in the final months of preparations.
My To Do list is looking a little less daunting but everyday it gets bigger rather than smaller as we remember the little details that go into a perfect wedding.
And there are SO many details...
I've found the best way to keep track of all my ideas and inspirations is to keep a huge wedding scrapbook.

Starting the scrapbook
I brought an A3 sketch pad and a whole bunch of wedding mags to start us off. MM and I spent a happy hour or so cutting stuff out that we liked and sticking our ideas, sketches and notes into the pages.
Scrapbook suppliers
Hobbycraft
Paperstone
WHSmith
Ken Bromley
Cass Art

You'll also need :
pencils,
scissors,
a craft knife,
glue
masking tape
Masking tape looks better than cellotape plus you can write on it!
It was a good way for me to say - "I love this, how can we make it our own?" And for MM to say "you're mental", "We're not doing that." "We're not made of money" and variants on the theme of "no".
I'd say I got about 20% of my outlandish ideas through and 80% of what's left is a compromise that we both adore.
MM has been a more or less model Groom-zilla to be fair. He takes my ideas, whims and wishes across the Channel and tries his best to relay them to a resistant French supply chain. Bless him.

Salmon is not a vegetable
My idea for vegan pâté, to replace to lacklustre "vegetable stack" proposed as a vegetarian/vegan starter, was met with disdain from our caterers. Deeming it to "difficult" (probably actually deeming ME too difficult) they came back with the suggestion of salmon...
MM has way more patience than I for this kind of thing. They've agreed to let us bring the veggie/vegan starter instead. It won't be salmon.

Keep on scrapping
The scrapbook has now become something of a behemoth. It's bulging at the bindings with fabric swatches, photos, sketches, notations and stuff that's been cut from magazines, newspapers and printed from websites.
MM has lost interest in the book but for me it remains a constant source of inspiration.
I just came across the Royal Wedding Magazine and will be cutting out piccies from Maike and Travis's wedding and whole lotta stuff from Once Wed.

Supplies and discounts
Once I've indentified my prey - in this case, church candles, confetti or hurricane lamps - I usually try and get a bulk-purchase discount.
Usually buying stuff for a wedding means buying in bulk and boy, is it expensive!
It's worth emailing the suppliers directly and asking for a discount on any large purchases. They are normally happy to give between 5 and 10% which goes a long way when you're paying for a wedding.
I recently brought three hurricane lamps: two small and one big (outdoor wedding! Can't be too careful with the elements) The site did a special price for three lamps but it was based on a big, a medium and a small lamp. So I emailed to see if I could get a similar price for the configuration I wanted and "Hey Presto", they sent over a discount code and I got £12 off! How nice.
Just remember: If you don't ask you won't get. Be brave and send that email or better still, pick up the phone, it's harder to say no to someone directly.

Hurricane Lamps
Brilliant for outdoor weddings as they stop the wind from ruining the ambience.

John Lewis - £20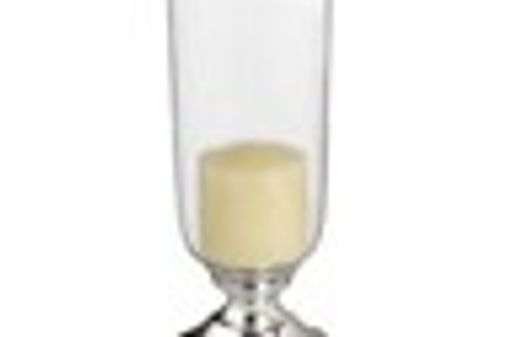 Hurricane
White Candle - £59.94
Constance Interiors - £55
Petals & Roses - £25.50