Lisa Genova does not look like what you would imagine a woman with a Ph.D. in neuroscience from Harvard looking like (please see below). She dresses the way you hope to dress when you are a successful career woman who happened to have knack for studying the brain and being a natural writer. As my fifty-something mother would say, she looked like a "cool mum," the one that I guarantee other mothers are envious of at the school gate. We sat down to talk after the press conference with the cast of the film Still Alice, herself and director Wash Westmoreland at the Crosby Hotel. She is admittedly an intimidating presence in the nontraditional sense, you immediately feel as though you could chit-chat with her about anything from the meaning of life to her favourite reality TV show. Then, mid-conversation, you are repeatedly reminded of how impressive her story is.
After her divorce 2004, Lisa found herself a single mother with no desire to return to the healthcare field. She had a grandmother with an Alzheimer's diagnosis and a great desire to learn more about the disease that was slowly taking her. So she decided to do something about it: "Alright, I will read everything I can about Alzheimer's and pass that education along to my aunts and my parents who were doing most of her caregiving," she recalled. "While I learned a lot of helpful scientific information, which I thought as a neuroscientist was very cool, everything was written from the perspective of an outsider. It was the clinician, the scientist, the caregiver or the social worker, and it was all very clinical or technical, or scientific and dry. And what it lacked was the answer to the one question I needed an answer to to stay connected to my grandmother, which was: 'what does it feel like to have this?'"
That ultimately became her inspiration for the story of Still Alice, which follows a 50-year-old woman and Ivy League linguistics professor day by day as she falls deeper into dementia as a result of her early-onset Alzheimer's. In an attempt to uncover the humanity behind the disease, and stay connected to her grandmother, Lisa began taking acting classes in addition to doing research: "So my grandmother didn't know I was her granddaughter, she didn't have access to memories beyond the age of 20. So she wasn't even married yet, she was going by her maiden name, she didn't remember any of it. And yet, if I sat with her and looked her in the eye, and we could have a nonsense conversation. This is where the improv acting was so huge for me. It's 'yes, and.' That is the number one rule of improv acting is you say 'yes, and' to everything. You agree to the reality that the other actors have created and that is how you create a scene. That's how you stay in relationship. So I look at my grandmother and stay in relationship with her, and she felt loved, and I know she did. I know that she felt loved and clued in to the day she died, and she didn't know who any of us were. It didn't matter."
I asked her, given all of her experience with the disease clinically and personally, what her biggest piece of advice would be to family members who are losing somebody to a cognitive disease like Alzheimer's. She urges family members to try and overcome the discomfort and awkwardness of the disease: "Alzheimer's is funny because at a certain point it becomes all about 'me.' I'm really uncomfortable not knowing that, or I'm really uncomfortable with what she's going to say, I'm uncomfortable with the fact that she doesn't know me. And isn't it too bad I've made her Alzheimers' all about me? So if you can get past your own discomfort, you can't insist on being your grandmother's granddaughter anymore because that doesn't make any sense to her." Instead, she encourages family members to accept the new reality the disease has created: "So I just have to be somebody who loves her and she can feel that. And then I can feel it back. We're capable of a real and meaningful relationship, it's just different than what our history created. You're more than what you can remember."
That is part of the reason why Still Alice has been such a huge success both in print and on the silver screen. Lisa originally had to self-publish the novel in 2007 because every agent told her it was too specific. Alzheimer's is not a disease that is often discussed, and agents felt there was too small an audience to make the book a hit. Anybody who reads the book or watches the movie can immediately see, however, that Alice's story transcends just that of a wife and mother suffering from Alzheimer's, despite the fact that the story is told exclusively through Alice's eyes. It resonates with anybody who has ever seen a loved ones' identity chipped away by disease. Still Alice is ultimately a story about humanity, and what happens to it when it no longer fits in the categories your loved ones have created for it: "It's about your worth as a human being. It's about, if you have something that results in cognitive or physical decline, does that exclude you from belonging? Can I still experience love? I think that it transcends Alzheimers and it's about the experience of being a vulnerable person."
That is what makes the Still Alice's transition from self-published novel to award-winning film all the more heart-wrenching. Married directing duo Wash Westmoreland and Richard Glatzer found that Alice's story struck very close to home when they decided to take on the project. Richard received an amyotrophic lateral sclerosis diagnosis, known as A.L.S., a few months before being approached with Still Alice in 2011. A.L.S. and Alzheimer's attack the body in two very different ways: Alzheimer's spares the body but attacks the mind, while A.L.S. leaves the mind intact and eats away at the body and its motor skills. When the couple decided to take on the project, Richard still had some of his motor skills. Now, he no longer has the use of his hands and must use his big right toe to type out what he wants to say on an iPad, which then reads it aloud. Their keen understanding of receiving such a difficult diagnosis, and its unstoppable progression, undoubtedly shows through in the film. They manage to restrain themselves from dramatising Alice's descent into dementia and focus on the unpredictable and frustrating nature of being somebody who lives with Alzheimer's on a daily basis. This stays true to Lisa's novel, which purposefully chooses not to focus on the family members or caregivers coping with the disease, while still giving glimpses of which relationships are brought closer together by the diagnosis, and others which are torn apart.
Wash and Richard recalled that they had a very similar experience with their friends and family when Richard was diagnosed. Nobody was "rude" they said, but certain people started visiting and reaching out less. In Alice's story, her youngest daughter Lydia, a struggling actor in L.A. played by Kristen Stewart, is the one who ultimately comes to her mother's side, even though they constantly were at odds about her career and life choices prior to Alice's diagnosis. Lydia steps up at a crucial time, when her other family members can no longer come to terms with the fact that their wife and mother was not "herself" anymore. She was no longer the hailed Ivy League professor, or mother who had an insatiable drive for her career and love for her children.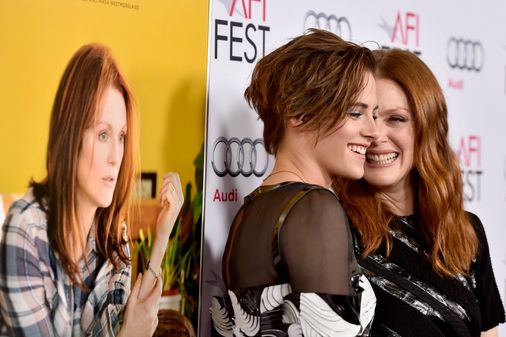 © Getty Images
Lisa discussed her similar experiences with the disease during our conversation: "I knew that from watching my own family and talking to the many families I know with Alzheimer's, I came to know a lot of people with Alzheimer's. And what they talked about earlier is so true: some people step up and are really there for you, and some people can't deal and retreat. Everybody goes through the stages of grief, so you get some people in the room who are still in denial, others are angry some are in bargaining and despair and you get all of them in a room and you can't have a coherent conversation." Lisa's experience with taking acting classes helped her create Lydia's character, and her ability to be her mother's identity's champion until the end: "I think that Lydia's interests were not academic, unlike her family. While I was training as an actress researching Still Alice I was working on a lot of 'being present' and how do you respond honestly and spontaneously in the moment? And that emotional honesty is something that is at an actor's fingertips, unlike the rest of us who have been socialised not to be emotionally honest... So I think she was the one who had more access to: here is my mother right in front of me, and this is who she is right now. So it was about 'if I don't hold the grudge about what has gone with us in the past, and I don't project the future of what is going to happen, I can just focus on who is in front of me and what is going on right now.' So they could just connect in the moment in a way that the others couldn't."
Lisa's experience with the disease, as well as Richard and Wash's own struggles, brought a significant amount of honesty and subjectivity to Alice's story. The popularity of the novel and the movie have served as an important platform for Lisa to raise awareness about Alzheimer's and its need for research. The other champion of the project and crucial piece to the success of Still Alice? Julianne Moore. The actress already won the Golden Globe for Best Actress for the role, and she has since been nominated for an Academy Award for Best Actress. Like Lisa, she spent months researching the disease and spending time with women who had received an early-onset Alzheimer's diagnosis. Wash Westmoreland recalls reading the novel and deciding who would be able to be responsible for portraying such a difficult story on the big screen: "I don't know exactly what chapter it happened, but the literary Alice we imagined from the page started to lose her dark curly hair as it turned a fiery red. 'Who do you think could do this?' I asked Richard. 'Julianne Moore,' he typed." The duo made a wise decision, with only a month to film, a $5 (£3.2) million budget and unable to shoot the film in chronological order, Julianne, who they call Julie, was challenged to tell Alice's story as accurately as possible under conditions other A-list actresses would have fallen short.
You can tell when speaking with Lisa that she is incredibly proud of the team that brought Still Alice to life, as she should be. The novel and film's popularity will undoubtedly change the face of Alzheimer's and the typical shame and discomfort the disease is usually met with in public. Since the success of Still Alice, Lisa is no longer needs to rely on self-publishing. She got a three-book deal and has since written bestsellers on a woman who suffers hemispheric brain injury, Left Neglected, and the novel Loving Anthony, which she wrote for her cousin, Tracy, who has a 14-year-old son with severe autism that has left him unable to speak. She is currently researching a novel about a family that struggles with the degenerative, genetic disease Huntington's.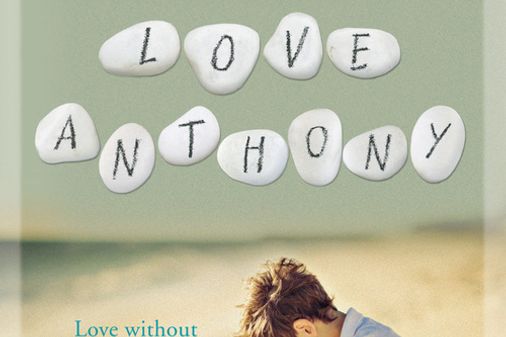 © We Heart It
Happily living on Cape Cod with her children, I asked her if spending all the time researching these traumatic diseases and their effect on family had changed her outlook on life. She said "I think I am infinitely more compassionate person, I don't take anything for granted. I just think I have a bigger capacity to love and accept. There's a lot of gratitude for what I have, and for the struggles I don't have. And there's an overwhelming appreciation, the families I meet who are dealing with Alzheimer's, Huntington's, Autism, brain injury, these are some of the most inspiring people I have ever met. 'Hero' comes to mind. The people that I hold in the highest regard on this planet, are the people dealing with the most difficult things…The relationships I have formed in doing all this research informed the stories, but they also informed the person I strive to be."
Lisa's courage to tell a story nobody had told, one that agents told her time and time again nobody would want to hear, makes her an impressive and intimidating force. Given her unconventional road to writing, I ended our interview by asking her (selfishly) what advice she had for young females looking to write about the truth, no matter how difficult the topic or how much resistance they faced. Her response sent a chill up my spine, and made me feel like I could maybe get a Ph.D. from Harvard while training for a triathlon and winning a Pulitzer, because that is just the type of effect Lisa has on people: "This is what I tell people, you're going to be dead some day. You know this. If this is something you really want to do, go ahead and do it. I should never have written Still Alice, everybody told me not to. I had never written anything before and I knew I wanted to tell this story. And I could be saying 'Oh one day I want to write a book about somebody suffering from Alzheimer's.' Give yourself permission to start it now. You will not be here forever... So why not? I used to think it can be intimidating and I found it the opposite, and I would go into a bookstore, into a library, and look at all of the books. Thousands of books in front of you. All of those people did it why not you? Why not you?"
After we spoke I left and listened to the interview again alone at a restaurant bar attempting to nibble on a pathetic little sandwich and process everything I just heard. Unable to contain my excitement, I paid my bill abruptly, cursing the lethargy of the tube and its preventing me from getting back to my laptop as soon as possible. Listening to the interview again, I did not even know where to start. From Richard and Wash's inspiring story, to Lisa's unwavering enthusiasm for the truth, to Julianne's haunting performance, it is safe to say my mind was blown. Then I replayed Lisa's response to my last question. A smile crept across my face and I opened up a brand new document, and then I gave myself permission to start. Because, why not?
You can buy Still Alice and Lisa Genova's other novels here. The movie will be released in theatres January 16th, see the full trailer below:
For more information on Alzheimer's disease please visit Alzeimer's Society
Do you find Lisa's story and its debut on the big screen as inspiring as we do? Tweet at us! @sofeminineUK
This article was written by Dagney Pruner. Follow her on Twitter @dagneyp
You might also like:

8 Ways To Stand Out At Work Without Seeming Like A Total Suck-Up

Watch What Happens When You Ask A Bunch Of Young Boys To Slap A Pretty Girl

Hump Day? Again? 10 Ways To Survive A Really Bad Day