A quick glance at some of the most fashionable women in Hollywood will reveal one major shoe trend: over-the-knee boots. They're thigh-grazing stunners that come in sky-high heels or comfortable flat styles. Because a girl has to have options (obvs).

Thinking of grabbing yourself a pair? Do it! They're sooo worth your buck!

And because we love you so much, we've put together 5 different ways to style your over-the-knee boots.

Take a look...
1. Neutral Tones
Coat: $115 Nordstrom.com
Top: $55 Monsoon.co.uk
Boots: $1,595 Mytheresa.com
Pants: $855 Stylebop.com
Bag: $34 Asos.com
2. All Black Affair
Coat: $150 Topshop.com
Top: $94 Nordstrom.com
Skirt: $110 Riverisland.com
Boots: $40 Target.com
Ear Cuff: $68 Bluefly.com
3. Fabulous Florals
Hat: $54 Nordstrom.com
Dress: $460 Oxygenboutique.com
Boots: $575 Zappos.com
Bag: $1,490 Ekseption.es
4. Pretty Chic
Sweater: $51 Chicwish.com
Skirt: $71 Warehouse.co.uk
Boots: $190 Office.co.uk
Bag: $88 Stevemadden.com
5. Deep Hues
Dress: $218 Theoutnet.com
Watch: $189 Truefacet.com
Boots: $1,995 Valentino.com
Bag: $1,295 Ssense.com
Need More Inspiration? Take A Look At These Style Stars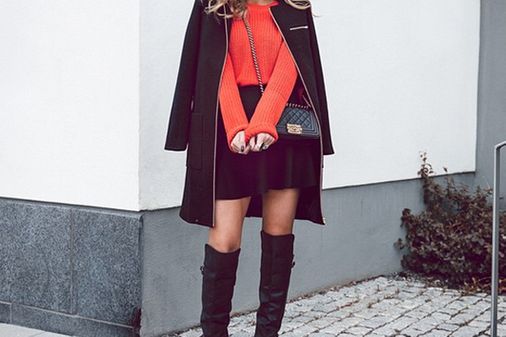 © Instagram
Kenza Zouiten - @Kenzas
How do you style your over-the-knee boots? Tweet us a pic @wewomenUSA!

This article was written by Cliché. Follow her @CalamityCliche.
You Might Also Like:
21 Ways To Style Your Fall Basics
Fall 2014 Shopping: 100 Coats At Every Budget To Covet This Season