We're a touch wedding obsessed at Sofeminine and when Millie Mackintosh and Professor Green announced their engagement in March we knew with Millie's attention to detail and effortless glam factor (this girl even looks hot at the gym) that the wedding was going to be out of this world.
Her wedding day yesterday didn't disappoint as she turned up wearing an elegant, layered wedding dress with a lace short sleeved top and a floral garland decorating her halo braid. All that time on the red carpet has given Millie a professional touch - this is how to do bridal!

No surprise that this Chelsea girl was wedded in a pair of pristine Christian Louboutin's - what better shoe to say 'I do' in?

Husband Professor Green also looked dapper in a blue suit with a pink floral pin, while the bridesmaids had a touch of the 80s about them with huge floral garlands and pale pink dresses.
Millie was obviously pleased with the final look and feel of her wedding and after the ceremony shared a few cute snaps of her special day on Instagram (loyal to her fans as ever).
We don't think we've seen a more picture perfect wedding! Even the guests scrubbed up nice - with fellow Made In Chelsea star Caggie Dunlop arriving in a cute cream frock.
Of course all eyes were on Millie and her ethereal elegance. Someone get this girl a trophy - she's definitely our fashion and beauty team's bride of the year! ​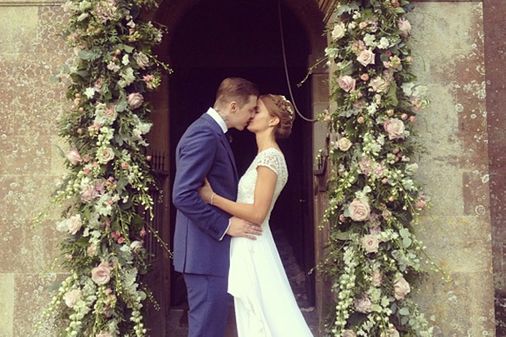 © Instagram
What do you think of Millie Mackintosh's dress? Love the look? Or bored by bridal? Tweet us @sofeminineuk